Why This Cult-Favorite Eyebrow Product Is My Desert-Island Beauty Product
Imaxtree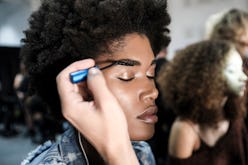 They say that if eyes are the window to your soul, then eyebrows are your curtains. At least, that was what one of the teeny bopper magazines that I revered more than most religious texts told me a decade ago. Since my parents were kind of strict, I wasn't allowed to wear makeup. But I could groom my eyebrows to perfection with the devices that I had: a Barbie comb and some Vaseline (and no, I'm not lying). Perhaps that's where my love of pigmented eyebrow gels started, the best of which would put said Vaseline to shame.
First, let's back up a bit: I'm not naturally deft when it comes to using pencils... I get nervous with one in my hand, and then my hands get sweaty, and then my stroke gets sloppy, and my liners end up, well, not on my brows. The first one to "work" for me, if you could call it that, was the NYX Auto Eyebrow Pencil, a super easy-to-use dual-ended pencil that *should* have been foolproof. When I was out of my parents' home and able to get my hands on the anything I wanted in my campus's nearby CVS, I stockpiled it. But I had no idea how to actually use it: Instead creating subtle faux-hairs, I went super-heavy and walked around looking like Groucho Marx for most of undergrad.
As I got older, I began to get the hang of doing my eyebrows. But I still wasn't crazy about the time it took for me to angle my tail, fill in with hair-like strokes, and conceal underneath my arches to clean them up. So perhaps it was fate when I just so happened to come across Glossier Boy Brow a couple of years ago, right after the brand launched in 2014.
I have to admit that I wasn't really convinced that this one would work for me. For some reason, there aren't many eyebrow products available in a true black — there are mostly browns and brunettes, both of which are far too light for my complexion. The brush is also small, too, and I've mentioned how clumsy I can get... so with that combination, Boy Brow was poised to be a date with disaster. But it wasn't. While sweeping the waxy, oleic acid-packed formula on my arches, I noticed that it dried really fast without flaking. Check. It was also actually black... not warm chestnut or chocolate or anything in between. Another check. The small brush was actually way easier to maneuver than I had anticipated, too... and it has an angled tip for targeted application.
Now that I've gone through no fewer than 20 tubes, I know to treat the brush just as I would with a pencil. And because the gel is so pigmented, I only need a couple of swipes to get the job done. Sometimes, I'll use a pencil to make my brows a bit longer at the end, but for the most part, Boy Brow is all I need to get by. It's truly one of those desert island products, and to be honest, I'd probably pack this in my getaway bag over sunscreen (sorry, every derm ever). And possibly bottled water, too. It's just that good.
If you're equally thirsty for full and defined brows, shop Boy Brow below. And check out four other honorable mentions, too.