How 10 Women With Different Skin Tones Wear One Glossier Cloud Paint Shade
@alohatoyoutoo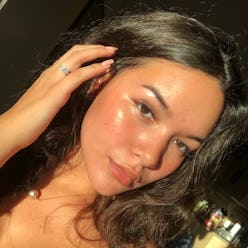 Blush was the one makeup essential conspicuously missing from the launch of Glossier Play, Glossier's brand-new color cosmetics line. But there's a really good reason for that: Glossier already created the perfect blush with Cloud Paint. Its cult-favorite cheek product is a staple for professional artists and makeup minimalists alike, thanks to a genius formula (a sheer, buildable cream) and top-notch shade range ("designed to be the most user-friendly cheek colors in existence," according to the company's site). Dusk, a bronzer-esque nude tone, is arguably the most versatile of the bunch, considering what Glossier Cloud Paint in Dusk looks like on 10 diverse women.
Read more: Brands Like Glossier With Cool, Simple, & Affordable Products
"I love the shade because it makes my face look like the glow you get after being in the sun: a muted, rosy red, not a sunburnt red," Kayla Carter, a Glossier fan, tells The Zoe Report. It seems everyone who's ever tried Dusk feels the same. "I love Dusk because of how natural the color looks and blends into my skin," Cynthia Simpson, a creative director you may recognize from Glossier's Instagram grid, says in an email to TZR. "It makes me look alive and lightly sun-kissed, which is great because I have the skin tone of a vampire," Amelia Goldie, a writer based in Australia, tells The Zoe Report — proving that Dusk truly is the perfect shade of blush, no matter where you land on the spectrum of skin tones.
Ahead, 10 real women show you how to wear Glossier Cloud Paint in Dusk (and — surprise! — it's not just for your cheeks).
"I usually just put some on my finger and rub it onto my cheekbones." — @kaylaliese
"I love Dusk! It is my favorite cream blush. I put it pretty liberally on my cheeks and sometimes dab it onto my eyelids too for a one color look. It's the first liquid blush I fell in love with." — @ameliagoldie
"I apply it with the fingertips, starting with the balls of cheeks and up towards the outer edge of my eyes." — @naturalcyn (left)
"I usually tend to use powder blushes because they often look a bit more natural on me. However, Glossier products haven't disappointed me yet, so when Cloud Paint was released, I was really stoked to test them out. Depending on the day, I may apply it with a full face of foundation, a tinted moisturizer or nothing at all to achieve a natural glow. All I do is squeeze a tiny bit on the back of my hand and apply to my upper cheek with my fingertips in a patting motion. If I am going for more of a natural, rosy look, I may also add some Dusk to my eyelids! It's a pretty versatile product, and a little goes a long way." — @ckingdez
"I love Cloud Paint in Dusk because it's the most flattering and easiest shade to build! I usually take just a smidge on my left index finger and lightly dab it on my cheekbones for a lively look." — @alohatoyoutoo
"Dusk is the perfect shade to add natural warmth to my face. It multitasks as a blush and bronzer by shaping your cheekbones as well as adding a flush of color." — @littlemissplumful
"Dusk is one of my favorite everyday blushes. I like to apply Dusk with my fingers, focusing the color onto the center of my cheeks and then blending out the remainder outside the center in a circular motion. And that's it! Pretty simple way to make my cheeks look plumper and naturally flushed." — @filipinogrndma
"I'm such a fan of the Glossier Cloud Paint formula in general. It's super lightweight, pigmented, and easy to apply. For my skin tone, Dusk is the perfect everyday, warm-neutral shade that truly goes with any makeup look. It does the work of both a blush and a contour shade, simultaneously adding a hint of healthy color and sculpting my cheekbones." — @emilydoes_makeup
We only include products that have been independently selected by The Zoe Report's editorial team. However, we may receive a portion of sales if you purchase a product through a link in this article.
Shop Cloud Paint in Dusk