I'm A Fashion Editor, And I Swear By These 10 Beauty Products
Joern Pollex/Getty Images for IMG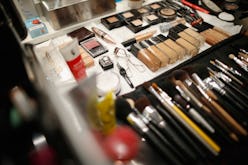 As a fashion editor in digital media, I've been seated within 10 feet of a beauty expert for the last five years. I even spent a period of time at the beginning of my editorial career writing about beauty. I'm no expert, but with someone always there to answer all my greatest questions, I'd like to think I've picked up a thing or two from my beauty-savvy friends. And along with all that first-hand knowledge also comes an obsession with quality product. That doesn't always mean expensive, mind you, but rather, workhorse formulations that outperform the rest of the field. More often than not, I seek out natural or organic formulas that provide those same results. Curious to know more about my routine and fashion editor-approved beauty products? I'll spare you a picture of my medicine cabinet (not pretty.) and break down my key products — a mix of cult favorites and genius items that my colleagues have turned me on to over the years.
First things first, let me explain a bit about my own personal beauty needs and preferences. I have naturally dry skin and super thick color-treated hair, so hydration is a constant battle for me, literally, from head to toe. On an average day, I don't wear much makeup — maybe a touch of concealer and mascara, or a sweep of blush. But, I won't lie, I amp things up for nights out — I live in NYC, people! — so I also keep a few colorful eye palettes, red lipstick, and liner at the ready.
Due to melasma related to an IUD, I'm very particular about SPF and general skin protection (otherwise I risk dark patches across my cheeks and upper lip). Otherwise, I'm lucky to say that my skin is usually fairly well behaved, though of course I fall victim to the occasional stray pimple or blackhead.
Below, I've broken down my favorite products into three key categories: skin, body, and makeup. While I promise to follow up with more into my wellness routine (a totally separate but equally all-consuming beast), for now, take these ten items as my go-to for day-to-day beauty.
Skin
So many of my editor friends swear by Biologique Recherche's products. They are on the spendier side of beauty goodies, but well worth it I swear. P50 is a true do-it-all, it's great for exfoliating and hydrating all at once.
I'm a Drunk Elephant obsessive because the product works, and the brand is obsessive about ingredients and quality. This vitamin C serum is especially helpful for keeping my melasma in check.
OK, a beauty elixir may sound like some sort of phony magic. But I swear, any time my skin is feeling particularly dry, this mist has the power to transform it. I keep one on my desk at work, and one at home, too — because you never know!
Lesse is an organic skin care line started by Neada Deters, a friend and former fashion editor. I swear I'm not biased when I say that her products are amazing. The face oil is super-hydrating, while the newly-launched face mask leave my skin feeling super clean.
Tata Harper's products always work wonders on my skin. I used the face mask every week or two, and apply this moisturizer every night obsessively. It's a heavier cream that helps my skin — especially during the dry winter months — but doesn't make me break out or leave me oily.
Body
Unfortunately for my co-workers, I've been road testing a number of non-aluminum deodorants over the last few years to mixed results . As someone who works out pretty regularly, it's important to wear something that helps keep me smelling fresh. I love the musky scent of this deodorant, as it's never overpowering.
I was recently introduced to Nécessaire via Instagram, and I have to say, the products are everything I like — simple, yet super effective. This body wash is no-fuss, and as an added bonus, it looks chic in my shower.
Makeup
As I mentioned earlier, my beauty routine is generally low-key, which is why I love to fall back on liquid eyeliner to punch things up. A formula that's smooth and won't wear off over the course of the night is key, which is why I love Charlotte Tilbury's genius pen.
Mascara is my one desert island makeup item, and I have yet to find anything I like quite as much as Diorshow. It isn't clumpy, it doesn't run, and it makes my eyelashes look super full... though in reality they are quite average.