This Stunning Cabin Is The Perfect Last-Minute Getaway For Couples
Glamping Hub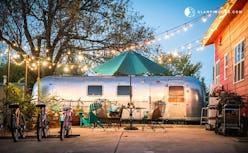 The concept of glamping has exploded in recent years, and turns out, it's a great way for couples to spend time together away from the distractions of daily life. After all, when you find an accommodation that's cozy, private, and surrounded by nature, how could you not feel romance in the air? Not to mention there's more unique glamping experiences than ever right now, so striking while the iron is hot is key.
Jessica Armstrong, partnerships manager of Glamping Hub, explains what makes this vacation style truly unique. "Although many glamping sites come fully stocked with modern amenities including WiFi and streaming services, glamping differs from any other getaway because you are completely immersed in nature," she says. "The purpose [is to] catch up on your R&R and embrace the beauty of living in the moment."
If you're hesitant to plan a woodsy retreat, Armstrong assures that you'll find accommodations to fit your style. "One of the best parts about glamping is that each trip can be tailored for each and every guest," she says. "It allows travelers to dive headfirst into the wonders of nature and the great outdoors without sacrificing their modern comforts, and without having to rough it in the woods, desert, mountains, or by the sea."
With spring just around the corner, now is the perfect time to plan an outdoorsy getaway for you and your other half. Ahead, check out five of Glamping Hub's swoon-worthy listings, as well as pro tips for first-time glampers. Whether you book a weekend getaway close to home or a week-long adventure across the globe, you'll appreciate some time to unplug and to reconnect with the one you love.
For an elevated camp-like experience (as in, no sleeping on the floor), these furnished tents in Colorado certainly fit the bill. The outdoorsy part of you will love biking, boating, hiking, and more; your sophisticated side will appreciate the nearby museums and wine tastings.
You'll have access to updated bathrooms and showers, plus scenic views galore. For less than $150 a night, it's an affordable getaway for anyone who wants to up their camping game.
Peaceful forests, river views, a childhood fantasy come to life ... check, check, check. This rustic-chic treehouse, equipped with a bathroom and kitchenette, is the woodsy retreat that nature lovers dream about. Adventurers can hike, zip-line, explore nearby caves, and more, or just take in the scenery and fresh forest air from the deck.
You and your S.O. will feel secluded in this treetop sanctuary, but it's situated just a mile or two from nearby towns ... that is, if you're ready to rejoin civilization.
Glampers with an affinity for vintage flair will feel right at home in this groovy 1970s airstream with all the modern conveniences. Located near Dallas, you and your love can explore the hustle and bustle of the city's attractions, then come back to your abode to hunker down with a mug of tea and some movies.
If it's chilly outside, switch on the fireplace for warmth and added ambiance, and on mild evenings, you can lounge out on a patio strung with twinkling lights (there's a fire pit, too). But perhaps the best part of this throwback experience is that it'll cost you less than $130 a night.
Just a couple hours outside one of the world's busiest cities are these quaint A-frame cabins where you can find solace from your daily stresses. Minimalists will appreciate simplicity of the lodging, which includes access to a private bathroom and communal areas to mingle, like around the fire pit or at the on-property cocktail bar. You'll also get a complimentary barbecue kit, courtesy of the hosts.
Consider booking a few of these cabins with your couple friends, and catch up (sans phones) in the shared spaces. If you can't wait until spring, that's okay; the mountain views are stunning with a blanket of winter snow.
For a one-of-a-kind experience to share with someone special, spend a night (or two, or three) in a circular silo that's been converted into a lodge. The dwelling is complete with a cozy loft, a bathroom, a living space, and yes, a TV. Or, you can swap technology in favor of taking in the view from the second-floor deck, exploring the surrounding farmland, or curling up by the fire pit with some hot cocoa.
You'll also be treated to homemade goodies prepared by the host, as well as daily breakfast, all delivered to the door. And if you decide you've had enough peace and quiet, venture into nearby Danville, where you can grab a bite to eat, some local beer, or visit one of the local state parks.
Tips For First-Time Glampers:
Ready to become a first-time glamper? Armstrong shares some tried-and-true tips to ensure a pleasant and memorable experience:
Tip #1: "Do some research into the different types of accommodations and locations where sites are held."
Tip #2: "Read the listing carefully in order to see what amenities, activities, features, and surrounding areas offer. Many glamping sites offer an abundance of each, so knowing what to prepare for will make packing easier and lighter!"
Tip #3: "Check the weather of the area to know how to pack and how it will affect the activities and excursions in the area."
Tip #4: "Contact the host to ask any questions prior to the stay. No one knows a property like a host does, so they will be able to mention any must dos or sees while you are on your stay."
Tip #5: "Book again and again! Once you go glamping once, you will want to experience every different type of option possible."