Airstream Vacation Rentals That'll Definitely Make A Glamper Out Of You
Airbnb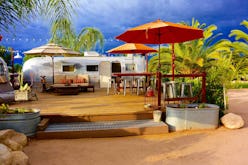 Gone are the days of pitching your own tent and hoisting a camper to your car, all for the sake of being one with nature. No, thanks to one of the latest, and most prominent glamping trends, you can have your cake and eat it, too (so to speak). In addition to souped-up tents and yurts, luxurious Airstream vacation rentals are steadily on the rise for travelers looking for elevated camping experiences.
You heard that right, the iconic metallic Airstream trailer that's been a standard in the camping industry for most of the 20th century is being made new again, thanks to innovative entrepreneurs and travel pros. "Airstream is an icon of Americana," says Ryan Miller, chief marketing officer of Airstream suite and luxury tent rental program AutoCamp. "It's a simple venture and was first created in the 1930s. It's very much a symbol of adventure and has such a futuristic design element to it."
Even with said futuristic design, modern travelers and businesses are taking things a step further, adding upscale amenities and their own cutting-edge features to the classic camper, making it all the more appealing to curious travelers. AutoCamp, for example, pulls out all the stops for its Airstream rentals, which are currently offered throughout California at the Russian River in Sonoma wine country, Santa Barbara, and (come March 2019) Yosemite National Park.
To bring its A-game, the brand partnered with architecture firm Anacapa and interior design company Geremia Design to make their lodgings as state-of-the-art as possible. "We've completely transformed the interior layout of the trailer to make it more like a boutique hotel experience," says Miller. "Some of the highlights include the upscale bathroom amenities, which feature Carrara marble tile in the walk-in showers, which are big enough for two people. They also feature enclosed bedrooms with memory foam mattresses, flat-screen televisions, Schoolhouse electric lighting, modern couches, and custom artwork."
Just like AutoCamp, more and more business owners and rental companies are offering spacious, amenity-filled Airstreams in picturesque locations around the world. Luxurious patio spaces, hot tubs, and designated outdoor cooking spaces are all at your fingertips — all you have to do is show up.
Yes, the cramped, primitive quarters of camping trailers past are, well, in the past — and just in time, it seems. According to the 2018 North American Camping Report, sponsored by Kampgrounds of America (KOA), camping is rising in popularity across the United States and Canada, particularly among millennials, who make up 75 percent of all campers. It makes sense, then, that the wanderlust generation is seeking new and innovative ways to experience a time-honored tradition.
Despite the hotel-like amenities and stunning views, stays at these Airstream lodgings are quite economical, further justifying their rise in popularity. Typical rates range from as low as $80 a night to about $400 — a bargain, considering the astronomical pricing for all-inclusive resorts and boutique hotels. And while these high-end establishments no doubt have serious appeal (the concept of "all-inclusive," for example), they lack the novelty of an off-the-beaten-path glamping adventure.
According to Airbnb, some 10,000 RV stays have been booked to date. Furthermore, in 2017, 86 percent of guest arrivals took place outside of the top 10 largest cities by bookings on Airbnb, proving travelers are increasingly thinking outside the cookie-cutter resort box these days, and aren't losing interest anytime soon. "I think people prefer experiences over things lately," says Miller. "It's really about doing something unique. Lodging providers need to innovate to make the experience more inspired than a traditional hotel."
Is glamping in a stunning Airstream sounding more and more appealing? It might be time to book a date with nature, and the nine rentals ahead are yours for the taking.