This Classic Fall Vacation Is Borderline Cliché, But It's A Must For The Season
Shutterstock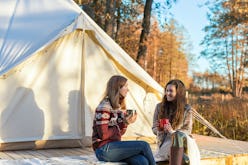 There's something about fall that brings on bouts of nostalgia, and with a crispness creeping into the air, you may have apple-picking and leaf-lined hikes on the brain. Complete with pleasant weather, vibrant foliage, and pick-your-own crops, this too-short season begs for a bucket list for annual activities. But while tradition is nice, the same routine can get a little tired, and if this sounds familiar, consider some fall vacation ideas that include classic pastimes, but with a twist.
Taking a trip that incorporates fall festivities means you can experience the highlights of the season from a new perspective; the change in scenery is invigorating, plus you won't feel like you're missing out. Better yet, if you plan accordingly, you can scope out the best versions of your favorite things to do for an experience like you've never had before.
Ahead, travel pros share their top fall vacation ideas to help you celebrate autumn. From going on a beer crawl through Oktoberfest to trading your Halloween mask for Dia de los Muertos makeup, these trips, both near and far, will help you make the most of the season. Whether you're thinking of packing your bags this year or next, it's time to start planning.
Savor Breathtaking Scenery & Sip Hard Cider || Stowe, Vermont
One of the simplest, most awe-inspiring pastimes is peeping leaves, and New England is notorious for being the perfect place to do it. "See some of the most beautiful fall foliage in the country in the quaint mountain town of Stowe, Vermont," suggests Clara Sedlak, senior editor of travel inspiration site, Jetsetter.com. "First, check out Moss Glen Falls to surround yourselves with water, rocks, and colorful trees—it's a short hike, well worth it even for those who aren't the outdoorsy types." But for those in the mood for adventure, "sign up for the Arbortrek Zipline Canopy Tour to ride along 4,500 feet of zip lines across the Green Mountains—thrilling and super scenic with that bird's-eye view of the trees," she says.
When it's time to relax, Sedlak says a stop at Stowe Cider is a must. "With its rotation of several seasonals, barrel-aged, and limited-edition picks, there's a drink for everybody, plus live music every Saturday."
Go On A Beer Crawl At Oktoberfest || Munich, Germany
When the air gets crisp, a favorite activity among beer aficionados is meandering through bars and imbibing local beverages. But if your wanderlust is calling, take your bar-hopping overseas where you can sip domestic brews ... domestic to Germany, that is.
Amy Brueckner, chief of staff for CIRE Travel, says that attending the Oktoberfest folk festival in Munich is a must-do experience, but it'll take some planning if you want to do it right. That's because the 16-day celebration, which spans from mid-September to early October, is attended by millions from around the world. "If Oktoberfest is on your bucket list, start planning NOW — and not for 2019, but for 2020," Brueckner advises. "As you can imagine, lodging fills up fast and can be pricey." She recommends securing a reservation in one of the festival tents, which offer packages that can include meals, seating, and of course, alcoholic beverages. "You can just go to the fairgrounds and walk around, but it's not the same as being in one of the big fun tents, listening to the bands, singing along, and drinking beers."
Brueckner endorses the Hacker-Pschorr tent from personal experience ("...but I don't think you can go wrong!" she adds), and suggests festival-goers deck themselves out in traditional garb. For the ladies, "I recommend borrowing or buying an inexpensive dirndl, the traditional German dress," she says. "All the women [will be] wearing them and you will feel very out of place if you're not." But, she warns, "Do NOT buy a cheap, sexy dirndl costume (à la Halloween); the locals will not approve."
Visit (Real) Haunted Houses || Williamsburg, Virginia
Forget the fabricated scares this year and head to Colonial Williamsburg to seek out some real spirits. Although there are haunted sites all over the state, you'll have your share of historic (and possibly, inhabited) homes and buildings to choose from on the renown Colonial Ghost Tour.
You can choose from four packages (including one afternoon tour, perfect for those who get easily spooked) which are lead by a guide through historic sites that include cemeteries, a former jail, America's first insane asylum, the campus of William & Mary, and more. But beware: The website claims that guests frequently experience activity while exploring.
Virginia too far? Not to worry. You can find chill-worthy ghost tours all over the country, and there's bound to be one a mere road trip away — or perhaps right in your hometown.
Trade Halloween For Dia De Los Muertos || San Miguel de Allende, Mexico
Dia de Los Muertos, translated to Day of the Dead, is an annual Mexican holiday that takes place November 1-2. Often (and rather inaccurately) compared to Halloween, the celebration honors loved ones who have passed. Eric Hrubant, president and chief travel-planning officer at CIRE Travel, says it's an event that can't be missed.
Three years ago, Hrubant stayed at the Hotel Matilda, "a lovely, modern hotel in a prime location with an amazing spa," which he highly recommends. But no matter where you book, he assures that you won't miss out on the excitement. "As most hotels have their own parties, ask where your room is in relation to the hotel bar and restaurants; if you're close to either, you'll be up late!" Further, a huge parade is one of the city's biggest events. "Most hotels hire make-up artists for guests for the night of the parade so you can get full face make-up," he explains. "The parade starts at the Rosewood Hotel and meanders through the town where anyone can join in, [and] ends at the Church of San Miguel Arcánge."
The travel pro gives a final piece of insider advice. "Book early, as Dia de los Muertos only comes once per year. Hotels do sell out as well as restaurants, so planning six to 10 months in advance assures the best pricing and availability."
Spend The Weekend Glamping & Apple Picking || Upstate New York
With cool, comfortable days and chilly nights that make you want to get cozy, autumn is the best time of year for scenic nature hikes, apple picking, and sitting by the fireplace. So, why not spend an entire weekend (or longer) in a luxe glamping site where you can get your fill of all three? Lucky for city dwellers in NYC, a quiet seasonal getaway is just a short drive away.
"On beautiful fall weekends, many New Yorkers flee the city and head upstate," says Sedlak. "Spend time communing with nature without sacrificing the comforts of home by booking one of the luxury tents at Collective Hudson Valley, a glamping site located on Liberty Farms in bucolic Hudson Valley, where you can go apple picking on site."
Too far from home? Find a glamping getaway near your town, where you can lounge around the bonfire, make s'mores, and drink hot cider to your heart's content.