The Summer Trip That'll Definitely Help you Reconnect With Your Partner
RossHelen/Shutterstock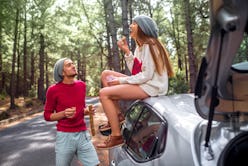 There's nothing like the feeling of freedom when you hit the open road, so it's no surprise that hopping in the car and heading out on a (long) drive can be a wonderful way to bond with your partner. If you're in need of inspiration, stay tuned for some road trip ideas for couples, ranging from romantic to breathtakingly beautiful.
Yes, traveling by car lets you tour at your own pace, whether you're in your own country or headed abroad. And if you're planning on the latter, Amy Brueckner, an intrepid world traveler and chief of staff at CIRE Travel, has some tips for first-time roadies heading out of the country:
"Make sure your rental car has GPS."
"I recommend renting a car with an automatic transmission. You may pay a little more, but even if you know how to drive a stick, it's just easier when you're in unfamiliar territory. In countries where they drive on the opposite side of the road from the US, the stick shift is also on the opposite side!"
"Know about parking in your destination before you arrive. Especially in European cities, the roads are tight and tiny!"
Ahead, travel pros weigh in on their favorite road trips, near and far. So whether you have a weekend to spare or weeks to take your time exploring, pack your bags, grab some snacks, and update your playlist. You and your S.O. are about to embark on a journey that you'll never forget.
Port Douglas to Cape Tribulation, Tropical North Queensland in Australia
Caroline Makepeace, co-founder of the y Travel Blog, says this route in Australia has the perfect blend of stunning scenery, date night cuisine, and bucket list excursions. "Along this coastal highway, you have the Great Barrier Reef to the right and the world's oldest rainforest to the left," she explains "This is the place where to World Heritage Areas meet; or as they say in Australia, where the rainforest meets the sea. You can start your romantic road trip with a snorkeling adventure out on the reef, and relax for an evening at the trendy town of Port Douglas. It's filled with both casual and fine dining restaurants, boutique shopping and accommodation."
And for those craving an adrenaline rush? "In the rainforest, your days can be filled with ziplining through the rainforest canopy, croc spotting on the river, admiring the many stunning views, coves, bays and beaches, and sampling local exotic ice cream -- all made from the fruits of the forest."
St. George to Moab in Utah
For couples who need to reconnect with each other (and unplug from technology) Makepeace says that Utah can't be beat. "Utah is the place for couples wanting to bond over hardcore adventure and stunning natural beauty," she begins. "It's a rocky, rainbow-colored land filled with canyons, mountains and valleys that is sure to ignite the fire of your love."
Further, history buffs and nature lovers will appreciate that this trip takes you through four national parks, " each with their own signature look and activities,' says Makepeace. "The adventures you will most bond over (and remember as the most epic fun ever) can include hiking Angels Landing in Zion National Park, ATV-ing over the sand dunes in Sand Hollow State Park, jeep rock crawling in Moab, and scrambling through Peek-a-Boo and Spooky slot Canyons in Grand Escalante National Monument." In the evenings, she says, you can camp under the stars or dress up and head to Downtown Moab for a nice dinner out. "Don't miss Desert Bistro or, for authentic Thai, Thai Bella," she recommends.
Southwestern US along Route 66
"The quintessential historic highway of America is great balance of diverse nature and good ol' campy fun," says Jennifer Li, founder of Map&Move, a millennial travel company that coordinates trips around the world. "Technically, the route starts in Chicago, ends in Santa Monica, and crosses eight states and 2,400 miles. So if you're limited on time, it's best to pick and choose your stops on the route."
What's a better bonding experience than seeing some of America's most famous landscapes with your beau? Some of Li's favorite stops on or near Route 66 are in the Southwest. They include:
Bryce Canyon: "Most people know the Grand Canyon (which is also along Route 66), but not as many know Bryce Canyon in Utah. Seeing this alien landscape carved by millions of years of erosion transports you to another planet."
Antelope Canyon: "Antelope Canyon in Arizona is pure magic. It's on protected Navajo land and the only way to access it is with licensed guides. Coming here is such a treat because it's intimate in size and walking through the wavy sandstone corridors makes it feel like you're in another world."
Lake Powell & Monument Valley: "From Antelope Canyon, head to Lake Powell and Monument Valley [on the border of Arizona and Utah]. It's wild how different the landscape is in a relatively short drive."
Painted Desert: "Head to the Painted Desert in Arizona for sunset, and stay in the town of Holbrook at night. If you're down for campy fun, head to the Wigwam Motel, one of the few remaining motels from the 50's and rent a teepee for the night."
For a truly epic adventure, you can take two weeks to a month sightseeing along the entire highway.
Würzburg to Füssen along the Romantic Road in Germany
Those seeking Old World charm and romance should make their way to the Romantic Road in Germany, says Brueckner. This 260-mile journey across 16 towns outlines a trade route from the Middle Ages and offers travelers some of the best of what Germany has to offer: medieval villages, fairytale-esque castles, breathtaking landscapes, and town centers filled with shopping and dining.
According to TripSavvy, itinerary essentials include: sampling wines or attending a wine festival in Würzburg, located in the wine-growing region; spending the night in Castle Hotel Colmberg, a 1,000-year-old castle in Bavaria; and a visit to Wieskirche, also known as "Church in the Meadow," a breathtaking rococo church and pilgrimage site in Steingaden.