The Fall Vacation You Need To Take If You Want To De-Stress
DonLand/Shutterstock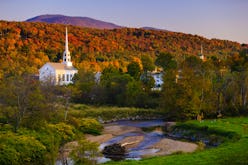 Autumn is officially here, which means the lazy days of summer are over (sigh), and everyone's agendas have kicked into high gear. That said, if the words "I need a vacation" are already running through your mind, it might be time to get a vacation on the books. With families on their back-to-school schedules and the winter holidays still a couple months away, use this lull to plan a relaxing fall getaway to unplug with your significant other, the girls, or just yourself.
While a warm-weather retreat to an exotic beach or island locale may seem like the obvious option to unwind, there's never been a more opportune time to think outside the vacation box. In light of the season, consider heading to the mountains for a change of scenery and a chance to unplug (and witness some serious fall foliage). And just as there are plenty of beaches at your disposal, there are also a plethora of mountain ranges all over the world — and in your backyard — to explore and recharge on.
Whether you're seeking exotic adventure or a weekend trip near your hometown, these eight mountain destinations come personally recommended by the experts at CIRE Travel. The hills are officially alive with the sound of vacation. Get packing.
The Swiss Alps
Turns out, you don't have to be an avid skier to plan a trip to the Swiss Alps. Esther Klijn, who specializes in honeymoon and high-end vacation business travel for CIRE, notes that the mountains, while well-known, are usually associated with winter vacations and activities. But there's lots more to do besides shredding the slopes — relaxing, hiking, and paragliding are all worthy options, as well.
"The Alps are absolutely breathtaking snow or shine," Klijn says. "A favorite place to stay is the Bürgenstock Resort, which sits in the mountains above Lake Lucerne in central Switzerland."
Bhutan
If you're an explorer at heart, consider spending a week or two hiking and touring the Eastern Himalayas. Bhutan, a Buddhist kingdom in South Asia, "is unlike anywhere else on Earth," says Eric Hrubant, CIRE's President and Chief Travel-Planning Officer.
"I recommend the Amankora Bhutan (part of the Aman Hotels Group)," he says. "They offer private guided adventures where you can explore the magical mountains, valleys, and Buddhist monasteries of Bhutan."
Hrubant adds that tours range from three to 12 nights in duration, so you can choose to make it a stop on a bigger vacation, or plan it as your primary destination.
The South Island of New Zealand
Active travelers can head to the South Island of New Zealand for outdoor excursions that offer vast views of glaciers, lakes, and the southern Alps. Katy Rebrovich, Senior Leisure Travel Consultant and head of CIRE's West Coast office, says that this destination caters to any type of traveler, in any season.
"[There are] hiking trails, skiing, and glacier hiking," she says. "Not to mention an epic backdrop for any road trip (and every Lord of the Rings fan!)."
Machu Picchu, Peru
History buffs and hikers alike will love wandering around the ruins of Machu Picchu, an Incan citadel located in the Andes Mountains in Peru. Amy Brueckner, CIRE's Chief of Staff, honeymooned here and enjoyed hiking, riding trains, and staying at the nearby Belmond Sanctuary Lodge.
"After exploring for the day, we took the Hiram Bingham dinner train back to Cusco," she recalls. "That train trip was a highlight of our honeymoon — great food in an elegant dining car, but also a jam-packed bar car with a mariachi band. People were dancing up a storm!"
The Catskills, New York
Locals love taking refuge in the calm nature of the Catskill Mountains, especially those living in "The City That Never Sleeps." There, urbanites can take a break from the hustle and bustle while surrounded by greenery and wildlife.
"The Catskills are the go-to for busy New Yorkers wanting some peace and quiet," explains Jason Villacres, who specializes in leisure and corporate travel. "There are tons of B&Bs, boutique hotels, and even more luxurious properties, such as Mohonk Mountain House. (Tip: It has a fantastic spa if you need a massage or a soak in the hot tub after your hike)."
Mount Rainier, Washington
In search of glaciers? You don't need to leave the contiguous U.S. to find them. This active volcano is one of the iciest in the country, and at the top sits a permanent snowcap that forms a cave. The surrounding national park has no shortage of excursions for bikers, hikers, climbers, boaters, and more.
"I went and fell in love with a lodge on the mountain, the Paradise Inn," says Villacres. However, he adds that the National Historic Landmark is undergoing renovations at the moment. "Part of the inn is currently under construction, so rooms can be a little hard to come by until the work is complete in May 2019."
Stowe, Vermont
Hikers, skiers, boaters, and more can enjoy outdoor activities — or a relaxing break from reality — while surrounded by some of New England's finest foliage. The town is home to both Mount Mansfield and Spruce Peak, the former being the state's highest mountain.
"Stowe, Vermont is incredible," says Villacres. "[Mount Mansfield is] one of the best summits I have done, and with a visit to the Ben & Jerry's factory afterwards, how can you go wrong?"
Mount Battie, Maine
"Sure, get to Acadia if you have the time, but Mount Battie, just a little north of the town of Camden, is lovely," says Brueckner. "It's a moderate hike to the top with great views of the harbor. (You can also drive to the top, I won't judge.)"
You can choose to camp at the base of the mountain or stay at one of the nearby inns. Brueckner suggests the Camden Harbour Inn, which is "a quintessential Maine inn."