Take Your Glamping Trip To The Next Level With This Luxe Essential
Moise Sebastian/Shutterstock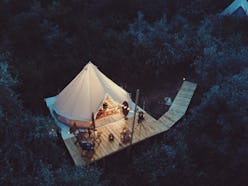 Everyone has a different travel style. For some, the ideal getaway is a five-star beachfront resort somewhere where the Aperol Spritzes are flowing. For others, it's getting down and dirty in a no-frills wilderness setting. But if you like the best of both worlds, glamping trips are probably right up your alley, and this season is a great time to plan your next one. And in order to make your next luxury outdoor excursion a total success, there are a few key glamping essentials that will take yours to the next level.
Everyone enjoys the comforts of home, like a cozy place to snuggle up or a good cup of coffee. And just because you're out in nature doesn't mean you can't still have access to these indulgences. And now that glamping has become such a major travel trend, it's easier than ever to find portable luxuries that you can take with you anywhere — including your trip to a treehouse, yurt, dome, tent, cabin, airstream, or wherever you prefer to do your best version of Phyllis Nefler from Troop Beverly Hills.
In addition to shopping traditional camping product retailers like REI, some of your favorite fashionable sites have gotten in on the trend to offer goods that will elevate your glamping game — whether that means shatterproof wine glasses so you can sip sustainable wine or a mini projector so you can watch your favorite movie under the stars. (That said, why not do both at the same time?) Ahead, find 15 items that will most certainly making your next glamping trip one you won't soon forget.
Luxury Tent
If you're not staying somewhere that provides lodging, a spacious tent to spread out in is most certainly a must. Pro glampers love the versions by Bell Tent.
Cooler
The most stylish — and expert approved — place to keep your wine and charcuterie ingredients (because that's obviously what you snack on while glamping) chilled is a YETI cooler.
Movie Projector & Portable Screen
Make anywhere you go into your own movie theater with a portable projector and screen.
Airbed With Luxe Linens
It's not glamping of you don't have a super-cozy place to sleep. To help ensure that, invest in an airbed cot and some ultra soft and warm bedding to bring along.
Travel Stove
A campfire is a must — but if you want to cook like a chef while you're on your glamping trip, a portable charcoal grill will make you feel like every meal you make is restaurant quality.
Enamelware Dishes
Paper and plastic plates cause excess trash, so pack a set of lightweight, reusable enamelware. The sleek styles from Falcon are so pretty, you'll want to use them when you get home, too.
Stainless Wine Glasses
Solo cups for your fancy wine simply won't do! These stainless tumblers keep your rosé cool and look great while doing it (plus you can't break 'em).
Hammock
For reading, napping, and just hanging out in the great wide open, there's nothing quite like a hammock for lounging.
LED String Lights
For lighting that's functional and pretty, grab some battery-powered string lights.
Portable Bluetooth Speaker
Set the mood with tunes wherever you are.
Device Charger
To ensure you don't run out of batter while you're away — you're gonna need your smart phone to capture all the Instagrammable details, after all — pack a portable charger.
Travel-Sized Beauty Set
Regardless of what the shower situation is where you're headed, make it as luxurious as possible by bringing a travel set by your favorite beauty brand.
Latte Set
Just because you'll be away from your favorite cafe doesn't mean you still can't start your day with a decent cup of coffee. Bring along your own freshly ground espresso beans and a travel latte set (complete with a handheld milk frother) and you won't feel like you're missing a thing.
Games
Entertainment is key, so don't forget a travel-sized board game, a deck of cards, even a frisbee for some interactive fun with your travel buddy.