Food Experts Predict You'll Be Ordering A Lot Of This Dish Next Year
Anado/Shutterstock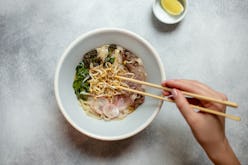 Just as is the case in the fashion world, some dishes and/or ingredients go in and out of popularity. For example, this year was all about adding avocado toast, celery juice, and CBD to your dietary routine. And some experts have already made predictions about the ones you'll be hearing more from next year. To figure out the most likely 2020 food trends, delivery app Uber Eats looked at which culinary terms are rapidly gaining momentum — from the fruits and vegetables to incorporate in your salads and smoothies to the dairy alternatives you'll be adding to your morning coffee. And, of course, the dishes you'll probably be ordering in on the regular.
Some of next year's biggest trends you could probably could have guessed, like the plethora of plant-based options (if the rise of vegetarian and vegan restaurants was any indication). And one of the biggest words in wellness, adaptogens, will soon be as well-known for edible options as it is for supplements. But there are a handful on the list that just might surprise you — like a fruit you thought was just on your smoothie bowl for aesthetic purposes, or a North African condiment you'll want to slather on everything.
And just as some food trends are on the rise, others seem to be on the decline. Based on the same studies, Uber Eats believes you'll be seeing a lot less acai bowls, bee pollen, and kombucha in 2020. But don't be sad for their decrease in popularity, be excited for all the new things you can try next year (And obviously, you can still order those oldies-but-goodies without shame). So without further ado, find 12 trending foods ahead that you might want to get to know better — unless, of course they're already a part of your repertoire. And if that's the case, congratulations, you're officially a foodie.
Starfruit
Sure it's fun to look at, but did you know that starfruit also has some serious health benefits? Not only is it rich in vitamin C, it's also ant-inflammatory and is a great source of fiber.
Squid Ink
Not only does squid ink — which is exactly what it sounds like — great for creating a killer presentation, it also imparts a subtle seafood flavor when added to a pasta or risotto dish.
Reishi
The stress-relieving adaptogen is making its way into the culinary world via teas and other beverages, like Four Sigmatic's Mushroom Cacao mix, which can help you relax and unwind before bedtime.
Keto
The high-fat, low-carb way of eating shows no sign of slowing down in 2020. Expect to see more keto-friendly options on the menus of your favorite eateries.
Harissa
This smoky-spicy paste is made primarily from dried chiles, garlic, and tomato paste. In addition to using it to marinate your meats, you can add a smear to your burger, put a dollop in your salad dressing for an added kick, or even serve with scrambled eggs in lieu of your traditional Tabasco.
Pho
It's the ideal season to treat yourself to pho, a Vietnamese soup that traditionally is composed of both, rice noodles, and meat, but it also happens to be super easy to made vegetarian. Just add tofu instead. A handful of fresh herbs like cilantro and mint to finish are a must.
Cold Brew
Cold brew is hardly new, but in 2020 it might just replace — gasp — your morning hot cup of joe.
Oat Milk
And speaking of coffee, oat milk continues to be the most popular dairy alternative for adding to drinks, making baked goods for lactose-free friends, and so on.
Bone Broth
The process of slowly simmering animal bones makes for a collagen-rich broth that some say can help with joint and gut health.
Udon
The thick, wheat-based noodles will probably be on menus even more next year.
Impossible Burger
Even fast food chains are getting in on the plant-based trend with the help of this meat substitute.
Kimchi
Intense flavor and probiotic benefits are a few of the reasons people seem to be stocking up on this Korean condiment.