The Zoe Report's Wish You Were Here Issue Will Make You Rethink How You Dress For Summer
Sophie Sahara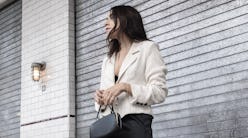 I recently accepted a sobering truth: I am unable to dress myself without asking the advice of four to six of my closest friends, and in certain desperate situations, an Instagram poll. It's not that I don't know how, it's that as I refrigerator-stare at my closet, I have what I like to call situational indecision: an inability to decide on an outfit unless I first know exactly what all of my friends are wearing, mostly in an effort to make sure our vibes coincide. As it turns out, I'm not alone. In an unofficial poll of a dozen fashion editors, more than half would text their friends to find out what they're wearing to a seemingly straightforward warm-weather outing.
"There's no harm in fully immersing yourself in all that summer has to offer — and that includes dressing for the occasion."
There's something about summer obligations that seems especially daunting. Anyone who's ever showed up to a seaside happy hour in a midi skirt and kitten heels while everyone else got the bathing-suit-and-cover-up memo (read: me, twice) knows what I mean. And what the hell is "beach formal" anyway? Of course, we'd love to encourage you to wear whatever you want, wherever you want, but we know you're probably looking for some direction.
Unfortunately, you won't find that in our cover shoot for TZR's summer style issue, Wish You Were Here, unless you have plans to gallivant along the shores of Long Island in designs from Gucci, Chanel, or Oscar de la Renta. (Hey, we don't know what you've got on the agenda.)
And renowned stylist Kate Young, who we interviewed for our Best Dresser series, won't give you summer outfit ideas, either. Sorry. But — but! — she does shed light on how to turn job as Anna Wintour's assistant into an accidental celebrity styling gig. (Young was responsible for Sophie Turner and Joe Jonas' coordinating Louis Vuitton by Nicolas Ghesquière looks at this year's Met Gala. Not exactly appropriate for rooftop drinks during a long summer weekend, but there's no harm in taking a page from the newlyweds and harmonizing your outfit with your partner's.)
In Chemistry Lesson, you'll find a deep dive on the ingredient du jour, CBD, rather than a guidepost for your wardrobe choices this June. Though, we do encourage choosing an outfit after a single dose of Not Pot, the socially conscious gummies that are all over your Instagram feed.
The good news? We've got some answers for you: In Trace The Trend, we chronicle the popularity (and previous impropriety) of Bermuda shorts, the unofficial MVP of summer 2019, and include our favorite pairs to shop from designers like STAUD and The Row. And although a lace-paneled Fendi coverup may not be the most practical beachwear, in Out Of Water, this issue's photo story, we show you how to wear bathing suits as clothes — even if you're not near a private, modernist, concrete-enclosed pool in the arty upstate New York enclave of Garrison.
Even better: What Are You Wearing, a package dedicated to answering the text message before you even send it out, will serve as your sartorial key to summer style. Going out of town? We'll walk you through what to pack. Headed to a barbecue? We'll tell you what to bring. What warm-weather accessory will anchor your look? Our market editors break it down.
And sure, it's not where you are (or what you're wearing) that truly matters, but there's no harm in fully immersing yourself in all that summer has to offer — and that includes dressing for the occasion.
-Lauren
Site Director, The Zoe Report