How Kate Young Became One Of The Biggest Stylists In Hollywood
Lexie Moreland/WWD/Shutterstock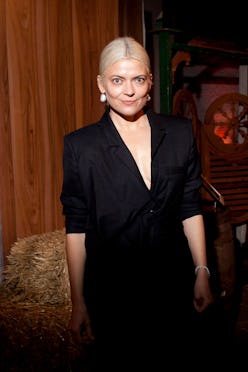 The Zoe Report's Best Dresser is a Q&A series that profiles top celebrity stylists, diving into everything from how they got their starts in the industry to their proudest fashion moments to date. For the series' second installment, senior fashion editor Aemilia Madden spoke to Kate Young, a celebrity stylist whose clients include Margot Robbie and Selena Gomez.
New York-based stylist and designer Kate Young has what can only be described as an impressive list of A-list clients under her belt. She dressed Sienna Miller, Dakota Johnson, Sophie Turner, and Nina Dobrev for this year's Met Gala. She's topped many a list of powerful Hollywood stylists. But, beyond all that, she also finds time to work with a roster of magazines, brands, and photographers that reads like a who's who of the fashion industry. Oh, and let's not forget that she designs, too — most notably, her line of sunglasses with Tura, which she launched in 2015. All of this is to say, if you've ever wondered what a fashion powerhouse looks like... well, meet Kate.
But, to reach the peak on which she now stands, Young worked her way up through a number of industry roles, including an early turn as Anna Wintour's assistant. Climbing up through the ranks at Vogue, Young also worked as market editor and assistant to fashion director Tonne Goodman before moving on to other noted fashion publications (including a stint as fashion editor at large at Interview), and later branching out on her own as a celebrity stylist and consultant.
While challenging, Young's career is also undeniably glamorous to anyone on the outside looking in. But, all that glamour — the designer gowns included — comes with long hours, back-to-back-to-back meetings, and a whole lot of managing expectations. Below, Young explains her journey.
How did you get your first job in fashion, and what was the start of your career?
The first job I had that was really, really in fashion, I was an intern at Lynne Franks PR in London. They hired me as the most junior assistant to work in the closet. I got that job through a friend of a friend, not any great professional story.
I was living in London, I came back for Christmas. A woman I had known as a kid was the art director at Glamour magazine. I called her and had lunch with her, and then I had an interview at Condé Nast human resources, and got the job at Vogue that way.
I wanted to be Dorothy Parker — I thought I'd be a fashion writer. It wasn't until I worked at Vogue for maybe six months that I realized that I wanted to be a stylist, or a fittings editor is what it's called.
What was your first experience in styling that sparked your interest?
I was Anna [Wintour]'s assistant, and part of the deal with being Anna's assistant is that you know what everybody does. You're around the whole magazine and you see it all, and you also know when any job is opening. A fashion writing job was opening and Anna said, "Do you want to interview for that job? I know you want to be a writer." I said yes, and then I took her writing test home for the weekend and realized while doing it that I didn't want to do it.
The way it was set up when I worked there was that the right side of the floor was the fashion department, fashion and beauty, and the left side was features. I wanted to work on the right side of the floor.
"There is no such thing as a 'perfect body' — all my clients are beautiful."
How did you come to connect with your first celebrity client?
I was Anna's assistant, and then I was a market editor, and then I became Tonne [Goodman, Vogue's former fashion director]'s assistant, and then after that I became a fashion circuit, which meant I was doing a lot of shoots. There are a lot of pictures in Vogue that aren't main fashion stories, and I was basically styling them all. If there was a dermatologist, I styled her portrait. If there was an article about jumping rope being the next fashion trend, I styled people jumping rope.
They used to have a page called "People Are Talking About," which was who the next celebrity is — the person who's going to be the next, most famous thing, and I styled that page for three years. And Vogue, it's no secret they kill half of the things they shoot, so I was shooting 20 celebrities a year and because of that, I was meeting all the publicists. I was meeting a lot of actresses.
Celebrity styling wasn't such a big thing, so we would do these shoots and then they would say, "Oh my premiere is next week, do you think I could borrow this dress to wear to my premiere?" I would call the publicist and ask, and they would say yes.
I was basically just styling people in that way ... It wasn't pre-meditated.
After you became a mom, you transitioned your job into full-time styling. How did you say, "OK, this is what I'm doing"?
I didn't know what was going to happen when I had kids. I only recently realized this, but one beauty of working at Vogue is that it's a women-run business. Women were the bosses, and women were the editors, and half of them, if not more than half, had kids. I didn't struggle. I know a lot of young successful women who I sit with at fashion shows struggle with the, "How do you do this with children?" question. I didn't ever really struggle with that because I saw people do it all the time, which I think is a real blessing. I feel really lucky to have that.
Once you have kids, if you still want to work — which I did — I wanted to get the most bang for my buck. I wanted the time spent away from my family to be as creatively fulfilling and as lucrative as possible. It seemed to me in evaluating my career at that point, that it made more sense for me to focus on celebrity [styling], because it felt like that's the way the tide was turning, rather than to focus on editorial.
I'm so grateful that I did, because doing celebrity, I can control my life to a certain extent. I work for myself. I have a lot of bosses, but I have a little bit of autonomy, which is really nice to have so I don't miss a school play.
"The shoes, the diamonds — I just get really into the beauty of it. It's exciting, and fun, and inspiring."
When you meet somebody or you're getting to know a celebrity, what is the way that you approach dressing them?
I always ask lots of questions, and then honestly, I need to try clothes on them and see what their body says. There is no such thing as a "perfect body" — all my clients are beautiful — but some of them are tall, some of them are short, some of them have big hips, some of them have literally no hips. The first thing is figuring out the architecture of their body and what's going to work, and how we're going to make them look the best they possibly can and feel confident. Then figuring out their style, who are they, and what's their personality. They all have different minds, and I'm trying to figure out how to make that show.
What part of the job is exciting for you?
The most exciting moment is usually around Golden Globes time, when my office is so full of couture, opening that door after the holiday everybody who works with me is always like, "You're going to freak out!" It's just really amazing to have all of these magnificent things to touch, to look at, and think about. The shoes, the diamonds — I just get really into the beauty of it. It's exciting, and fun, and inspiring.
What tricks have you picked up over time to make sure clients are comfortable?
I mean, I use weed cream on their feet — the Apothecanna one. I don't like to put people in shoes that they can't walk in. I really am meticulous about my tailoring, because if people feel like their dress is going to fall down, or they don't look good and they have that one angle to make the dress look good, you can see that. There's an awkwardness that comes through. I think for somebody to be elegant and beautiful, it needs to look easy. Even if it's the most complicated thing in the world, I like it when it looks natural — it's the right fit and comfortable.
What excites you about newer brands in the industry? Are you always looking for those younger brands to dress people in? How do you discover them?
Because of who I dress now, there is a certain amount of responsibility. We can't just have them wear rich, already established designers all the time. We can help build brands and bring them awareness and business by having big celebrities wear them. There's a responsibility that comes with the power these people have, but also I want the coolest things.
The way we find them: Instagram, people in my office, shopping, reading magazines, I don't know. There are showrooms and a newsletter of all young designers that I try to go through regularly so that I can see who they've signed, who's new.
How did you decide to branch into design yourself?
I've always had a design project going. I've had a line of lingerie in Japan for years with Triumph, and then I did a line of knitwear for babies and moms, it's a brand called Cardigan. Then I met the Tura people. We really got along — I like what they make, I like the brand.
Tura is an old American company — they're a big eyewear licensing company. They did Dior for years, so they have really cool archives. Now I know more about what makes eyeglasses interesting, and you have to pass a lot in terms of construction.
One thing that's really great about my particular job is that I get to do different things all the time. It's really healthy for me to work on glasses one day and work with a celebrity the next, and do an ad campaign the day after that, and then consulting the day after next. It's just how I function best. I think all of the things sort of inform each other.
Is there a specific goal you have through your design career? Or do you find yourself following what you enjoy and growing creatively that way?
I wish it was the first one, that I was super, super organized and goal-oriented. I'm not that way, honestly. I just go with things as they come.
I have lots of goals all the time. I have ideas about businesses and side projects that don't always materialize. That's sort of my nature — I kind of invent things and see where it goes, see if it works, and sometimes it does and sometimes it doesn't.
One thing that's been really nice for me is that Instagram has changed the way my business runs. I used to exist very much behind the scenes and I was hired mainly by publicists doing what I did, and no one else. It's nice to have control of the visual identity of my business and also have it be public so that everybody can see what I'm doing. I've gotten some new clients because they've seen my Instagram and it appeals to them. I like to get clients who are choosing me of their own freewill, and also know what I do. It's very different in terms of how it was even 10 years ago.
This interview has been edited and condensed for length and clarity.