The History Of Bermuda Shorts Is Surprisingly Controversial
DANIEL DAL ZENNARO/EPA-EFE/Shutterstock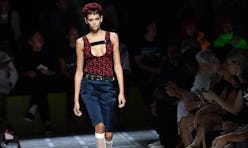 For The Zoe Report's Trace The Trend series, we investigate the real story behind how your favorite trends got their starts. Here, a look back at the history of Bermuda shorts, and how they became a summer staple with major staying power.
By now, you've probably begun your summer shopping — and noticed that this year's Bermuda shorts trend is, well, everywhere. They're certainly easy to spot; for Bermuda shorts to fit the category, shoppers and designers agree (for the most part) that the shorts should fall no more than six inches above the knee — a fairly modest length by today's standards. And yet, the Bermuda short is not without controversy. To walk around publicly wearing the knee-grazing style 100 years ago was to potentially open yourself up to scandal, fines, and more. Even the name of the style can be complicated; throughout the decades, they've been called walkshorts, walking shorts, dress shorts, or simply shorts, depending on where in the world they became popular — and when.
Bermuda shorts have a long, long history, and it's one that's inextricably tied to how women's fashion and society itself have changed over the last century. So, to truly appreciate the trendy shorts next time you slip on a pair, let's rewind the clock. Here's how the Bermuda short got its start — and entirely changed the way we dress for summer.
Late 1800s & Early 1900s: Shorts Of Any Kind Are Considered Controversial
Of course, people couldn't just put on a pair of Bermuda shorts back in the day — or any type of shorts, for that matter. Shorts as Western menswear were controversial throughout the early 1900s, and downright banned by law or social mores throughout the world for professional women. However, it wasn't just because shorts were, well, short. "If the garments were to cause any scandal back then, it was less about their length and more related to them being casual wear, and how wearing casual clothing in the wrong setting could be seen as scandalous," Sara Idacavage, fashion historian and instructor at Parsons School of Design and the Pratt Institute, tells The Zoe Report. "We're talking about a time when women were still expected to go out wearing gloves and hats, so any form of casual look could seem shocking for certain occasions."
Idacavage cites the Berg Encyclopedia of World Dress and Fashion, as well, to further paint the picture of how society at the time viewed shorts: "In much of Europe and the Americas during the 19th and early 20th centuries, shorts were worn as outerwear only by young boys until they reached a certain height or maturity," it reads. "When boys got older, typically around puberty, they would receive their first pair of long trousers. This produced the perception that shorts were only for young boys. Because of this, men would not wear shorts to avoid looking immature. Women tended not to wear shorts in most cultures, due to social mores: they were expected to wear dresses or skirts and blouses."
Women did sometimes don a style that could almost be considered Bermuda short-like today; because large, cumbersome skirts wouldn't always do, some women chose to wear an early iteration of shorts when bicycling, known as a bicycling costume. And it seems like simply slipping into the billowing bloomers on occasion had a profound effect on society; The Atlantic published a 1895 quote from the Pennsylvanian newspaper The Columbian, which claimed women bicyclists were "riding to greater freedom, to a nearer equality with man, to the habit of taking care of herself, and to new views on the subject of clothes philosophy."
You have to remember as well that, at this time, wearing clothing associated with a gender other than your own could be a legal matter. One PBS timeline shows that laws were passed as early as the mid-1800s to "keep women in their place" after they donned men's clothing to fight in the Civil War — which means that arrests for wearing menswear did occur. 1843 Magazine reports that British women were charged with fraud if found guilty of such a charge.
1910s: Shorter Styles Start To Emerge
With such a rigid standard in place, it seemed like shorts for adults (and women, especially) would never happen — but that was about to change. While there are a few different accounts of how Bermuda shorts got their start, Rebecca Singleton — the Bermudan founder and CEO of The Authentic Bermuda Shorts (or TABS, for short) — credits a Bermudan business owner with inventing the Bermuda shorts style in 1914. "Bermuda shorts came about as a way of beating the heat," she tells TZR via email. "Nathaniel Coxon, owner of Coxon's Tea Room, hemmed his employees trousers to help keep them cool and comfortable."
According to TABS, the style was later adapted by the British army in 1916, when one British officer decided to grab a cup of tea at Coxon's very shop. "Rear Admiral Mason Berridge took his tea in Coxon's and thought their new uniform was 'a bit of old Oxford and a bit of the Khyber Pass,'" Singleton says. "He decided to adopt the style for his fellow officers, and coined the attire 'Bermuda Shorts'."
Conde Nast Traveler also reports that the trend as we know it goes back to at least the early 20th century, though according to the magazine, the style emerged when British soldiers, overwhelmed by tropical heat, turned their uniform's standard trousers into cut-offs as a way to cool down. Naturally, the revolutionary style caught on, both in Bermuda where World War I soldiers were stationed and elsewhere.
"These became a part of standard dress for local men in Bermuda, and were later adopted by the many American and European tourists who visited Bermuda and found the shorts to be practical and comfortable for warmer weather," Idacavage tells TZR.
1920s & 1930s: Fashion Becomes Bolder — Especially For Women
The style took off for those who wanted to look like they'd spent time on the islands. "Along with casual dinner jackets, Bermuda shorts became more popular in Western fashion into the 1920s and 1930s as these styles were in line with the yachting and resort lifestyles of the elite," Idacavage says. "In addition to being associated with leisure and fitness, the name 'Bermuda' was associated with vacationing, which meant that the garment may have been seen as a symbol of wealth, despite their relatively casual nature."
But that still didn't mean women could don shorts whenever they pleased. Idacavage notes that even women's beach clothing often covered up any skin. "In fact, women could be arrested on the beach for showing too much leg," she adds. "Although they were wearing far more revealing things for the beach and sports, they couldn't get away with wearing those in other contexts, either. Again, I think the scandals caused by Bermuda shorts is more because of them being seen as so casual, and that such a casual garment should not be worn in many places."
1935, Elwood Bredell/Paramount/Kobal/Shutterstock
1931, Historia/Shutterstock
What society considered "acceptable" women's clothing was changing, though, thanks to sartorially brave celebrities such as Marlene Dietrich, Katherine Hepburn, and Greta Garbo. 1933 was the same year Dietrich nearly got arrested by the Parisian police for wearing a pantsuit, and Eleanor Roosevelt became the first first lady to formally wear pants to a public function (as part of a quite stylish riding outfit, mind you).
Idacavage also credits the Bermuda Shop, which opened at Madison Avenue and 55th Street in New York City back in 1936, for popularizing the shorts' name. "Along with garments that evoked tropical vacations, the Bermuda Shop was known for selling a variety of 'timeless sportswear' or casual clothing that was the basis of American fashion," she says. (A 1975 New York Times article includes a quote calling the shop "a mini Bergdorf Goodman".)
1940s: Bermuda Shorts Appear In Vogue
As you know, if fashion builds it, they will come. The designer Claire McCardell rose to fame throughout the '30s and '40s, bringing with her a signature eye for stylish, functional sportswear — which yes, included shorts. Time dubs it the "Bermuda shorts craze of the late 1940s," noting that shorts styles once reserved for activities like gardening and exercise had become fashionable clothes you could wear out and about.
According to Idacavage, Vogue first included the term "Bermuda shorts" in October of 1948 — "in an advertisement for the Bermuda Shop, which features 'long Bermuda shorts in traditional clan plaids' made of 100 percent wool." The fabric is important to note, too, she says: "The image shows a woman wearing what appears to be a heavy plaid pencil skirt, which shows that Bermuda shorts did not always appear fit for a tropical vacation, despite their name."
1950s & 1960s: Western Fashion Embraces Shorter Hemlines
As you probably guessed, the magazine has always had an impact on shoppers. "You can find women wearing short slacks in Vogue for casual wear in the 1930s, but the 1950s were really when leisure clothing such as Bermuda shorts, pedal pushers, capri pants, and other casual bottoms became widely popular in Western fashion. In the 1950s, Bermuda shorts were heavily advertised for young women in heavy wool plaids, which were seen as an ideal fashion for college campuses," Idacavage says.
Society didn't always embrace the style, though. "As recently as the 1950s, female students at Penn State University were prohibited from wearing Bermuda shorts and other short styles in dormitory lobbies after 7 p.m., indicating that these garments were still restricted to particular times and places," Idacavage says.
The New York Times reports the style also wasn't as popular in cities during the '50s; possibly due to the fact that city life was tied more closely to professional work attire. A 1954 article from The New Yorker pointed out that Brooks Brothers was selling more Bermuda shorts that summer — but that certain hotels and clubs still forbade the style.
Then came the '60s. Mary Tyler Moore was wearing capris on TV, Twiggy was catapulting shorter hemlines into mainstream style, and Jackie Kennedy herself was photographed in Bermuda shorts. In 1966, Yves Saint Laurent jumpstarted the prêt-à-porter movement by opening up the first ready-to-wear boutique under a couturier's name — and a sketch two years later shows a very familiar shorts style used in a 1968 collection.
1970s & 1980s: Hot Pants Take Over — But Not Completely
Bonnie Cashin Fall 1978 RTW, New York. Tony Palmieri/Penske Media/Shutterstock
Calvin Klein Resort 1983 RTW, New York. Thomas Iannaccone/Penske Media/Shutterstock
The rest, as they say, is history. Although hot pants may have dominated the '70s, the Bermuda style didn't go extinct. A 1974 trend piece from The New York Times humorously nodded to '50s clothing trends serving as fashion inspiration for the decade: "Her (or his) Bermuda shorts were made of bleeding Madras — if the colors didn't run in the wash, they didn't count," writer Angela Taylor recalled.
The shorts continued to pop up on the silver screen, as well. In 1986, Mia Sarapochiello famously wore exaggerated Bermuda shorts and a white fringe jacket as the too-cool-for-school Sloane Peterson, Ferris Bueller's girlfriend in Ferris Bueller's Day Off. (Later, Sarapochiello told Glamour that the Katharine Hepburn-loving actress had felt "very awkward" about the trendy outfit.)
1990s & early 2000s: Bermuda Shorts Are All Over The Runways
But Sarapochiello's Ferris Bueller look can't hold a candle to what may be the most well-known movie moment for the style. In 1993, Laura Dern made a pair of khaki Bermuda shorts look functional and fashionable in one of the highest-grossing movies of all time, Jurassic Park.
After that, life began to imitate art. Chanel's Spring 1994 collection included a pair of loose, knee-length, suspender-adorned shorts amongst the colorful tweed suits and mini skirts. Prada kickstarted the new millennium with Bermuda shorts in its Spring 2000 Ready-to-Wear show — as did Bill Blass, Max Mara, and Michael Kors Collection. Karl Lagerfeld leaned on the style again a year later with Fendi's Spring 2001 Ready-to-Wear show, expertly pairing Bermuda shorts with modern, Kardashian-like neutrals and black lipstick well before its time.
Lagerfeld wasn't the only one to see the knee-length short's cool factor (and its longevity amongst the next generation). Marc Jacobs' famous grunge-inspired Spring 1993 collection for Perry Ellis featured virtually all of the underground, alternative trends of the time; including this pair of lavender Bermuda shorts that looked like they walked right out of 2019's monochromatic outfit trend.
Today: The Trend Evolves For A New Generation
As you're probably well aware, the aesthetic of that Marc Jacobs show never truly went away. For anyone keeping track at home, as of now, Bermuda shorts are cool and grunge-y, yet modest and chic; casual, yet professional. They've been spotted in 2019 collections at Chanel, Prada, Off-White, and Simone Rocha, poising a major moment for the style. Back in 2018, Vogue dubbed it the "mom shorts" trend. But what does the future hold for the versatile short?
It could be argued that the bike shorts trend is the next generation of the style — blending modern, form-fitting athleisure fabrics with a familiar above-knee hem. For its Spring 2019 collection, STAUD released "Cruise" shorts, a preppy, color-blocked short that falls somewhere on the spectrum between Bermuda short's professionalism and the casual bike short. "I love the concept of 'sets'. It feels very nostalgic and provides an easy way of dressing," STAUD's Sarah Staudinger tells TZR over email. "The shorts paired with our sleeveless 'Pete' top is the STAUD girl's answer to an active lifestyle, not limited to 'bike riding' or working out."
Staudinger adds that the ideal activity for the Cruise shorts would be boating (yes, please), and that her shorts — like the OG Bermuda shorts — combine activewear with style. But after the early 2000's obsession with short hemlines and low-rise jeans, why has fashion returned so fervently to longer-length styles?
"I think we're in a moment where anything can be embraced. There are no rules anymore. At the moment you can feel women dressing more and more for themselves, and not every day do you feel like wearing a mini," Staudinger says. "Also, when something has been considered 'out of fashion' is when we can look at it again and it feels fresh. It's the cycle of a trend."
Bermuda shorts as you know and love them aren't going anywhere, though. "Bermuda shorts have been offered in Gap's women's assortment for years. They're the perfect short for anyone who wants to make a fashion statement without jeopardizing comfort or style," a spokesperson for the women's design team at Gap tells TZR.
Like every other player in the style's long history, Gap has an opinion of what makes a distinctly great pair of Bermuda shorts, too. "Just like any other pant or short it is important to really nail the fit," the team says. "Bermudas should sit easy at the waist through the hip and hit mid-thigh with just the right amount of leg opening on each side. We developed our favorite 10-inch chino Bermuda and obsess over the colors, fabrications, and washes, creating an all-around, must-have short for the summer." And a must-have, it remains.
Below, seven pairs of Bermuda shorts you can shop right now.