If You're Not Ready To Let Go Of Easy Summer Hair, Try This Trend
Courtesy of Cutler/Redken.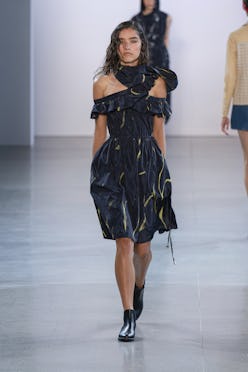 The weather outside of the Spring/Summer 2020 shows in New York is taking a brisk turn, with wind and cold rain pouring down on the very first day. But backstage, the season is still summer — especially when it comes to hair. Instead of elaborate updo's or pin-straight strands, models walking the first crop of shows sported manes that made them look like they'd just stepped out of the ocean. That's right. The wet hair look is back.
Yes, this season, designers like Mark Gong, Jordache, and Kith showcased manes that looked less like the plastered-down sticky strands of years past, and more like the hair of a woman sunning herself on a catamaran in Tulum. You know the one — the chic individual who always remembers to put oil in her hair before diving into the ocean to keep it soft and protected. The overall vibe at these shows was wet hair that one would actually want to wear on themselves — and could easily recreate at home.
So how exactly does one achieve such a simplistic yet on-trend look? Well, backstage at Mark Gong, Redken brand ambassador and Cutler hair lead Rodney Cutler utilized a cocktail of products. Reaching for Redken's Velvet Gelatine 07 Volumizing Blow Dry Gel spiked with the brand's All Soft Argan-6 Oil, Cutler concocted a style that was both damp-looking, but still incredibly airy. "We didn't want it to be gummy and sticky, but we wanted it to still have that lived-in texture," he said. "Velvet Gelatin allows the hair to breathe, and doesn't get stiff. It keeps the moisture, along with the argan oil."
That beachy, breathable look was also present backstage at Jordache, where the inspiration was surfer girls in Venice Beach, California — specifically, the loose curls they rock after taking a dip in the ocean. Lead hairstylist Jon Reyman used a mix of Aveda's Phomollient Styling Foam, Aveda's Light Elements Texturizing Cream, and, of course, oil. Aveda's Dry Remedy Daily Moisturizing Oil was worked into the strands to still give them mobility and feather-light quality.
Backstage at Kith there was a wide selection of hairstyles on the docket, including one standout glossy waved look. "Wet texture is coming back, for sure," said Leo Izquierdo, one of the lead hairstylists and co-founders of IGK. He created this high-shine, textured mane by prepping the hair with IGK's Mistress Hydrating Hair Balm before curling. Then, for the muss, he combed Rich Kid Coconut Oil Gel through models' strands for some piece-y separation. IGK's oil gel works similarly to the cocktails used at both Mark Gong and Jordache in that the texture provides some grit, while the oil infusion gives flexibility and natural movement. The result is breezy waves sans the stiffness and crunch of typical gels and salt sprays.
If you want a streamlined way to emulate these three looks at home, all you need is a hero product like IGK's oil gel mentioned above, which will provide the lightness and texture all three styles have in common. If you want a more amplified take on the look (with a bit more grit), try spiking your go-to hair gel with a few drops of oil, and working that mixture from root to tip. The result will be wet, fresh-from-the-sea strands so realistic, you'll look like you're living in an endless summer. And if the New York runways are any indication, that's exactly the wave everyone will be riding through the upcoming spring and summer seasons.
Shop some of the hero products ahead.