20 Products To Revive Your Curls In The Dead Of Winter
Imaxtree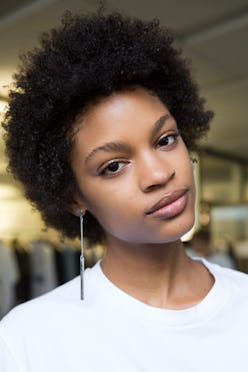 As the temperature gets colder, options for protecting naturally-curly textures feel so limited. You can wear it braided or in a ponytail, but both of those styles can cause breakage... and the repetition can cause a little boredom, too. You don't have to wait until winter is over to flaunt your texture, though. There are several curl-defining products on the market that preserve the health of your hair while bringing out the best of it, too.
Of course, it takes more than a spanking new product to keep your hair looking and feeling healthy. If you still struggle to retain moisture, try to sleep on a silk pillowcase, and wear a satin bonnet or a silk headscarf at night. Using a humidifier is also a hack that celebrity hairstylist Jillian Halouska loves. "They're going to help make curls bounce back up to what they would have looked like if it were 60 or 70 degrees," she tells TZR. The moisture in the air can help seal your sprays and curl creams in, providing longer-lasting results.
Halouska (who works with Rose Byrne and Busy Philipps) along with Nai'vasha Johnson (who works with Yara Shahidi) walk TZR through the products they swear by, and how they revive the most damaged and brittle winter curls.
Wavy Hair
"If you have longer, wavier hair and the bottom gets super tangled or matted, you must brush your hair before you go to sleep," Halouska says. "You have to be careful with your hair in the winter because it is brittle and it doesn't have the elasticity," she adds. Adding a curl defining cream can't do the trick on its own. Use a spray like OGX's Locking + Coconut Curls Finishing Mist with a detangling hair brush to get the waves you only thought came in the warmer seasons. Using sprays on looser curls also helps with dampening the hair, and will allow it to reconfigure the hair's hydrogen bonds to its natural curl. "It's like hitting the reset button," says Halouska.
Loose, Curly Hair
If you have loose and thinner curls, Halouska recommends using a volumizing shampoo and conditioner before applying a curl-definer. "Hair is all about prepping and how you're layering products on top of each other," she notes. "So if you have loose curls, I would suggest spraying some sort of super-light tonic or leave-in conditioner for prep. Then, I would use a mousse that will really provide texture. On the ends I would use a really lightweight oil to add some softness."
After prepping the hair, Halouska doesn't recommend a cream... she likes using yet another oil, from Kérastase. "It's all you need to get for bouncy curls," she guarantees. Finish off with a diffuser, preferably from Dyson, and you're on your way to the ringlets of your dreams.
Very Curly Hair
For those with tighter patterns, expect to be using more product on your hair to lock your curls in. A favorite of Johnson's is Paul Mitchell's Foaming Pommade. "You don't have to put anything in it after," says Johnson. "You can let your hair air-dry, or you could diffuse it and it'll be bouncy and beautiful, not heavy," she says. Johnson suggests using the foam when your hair is a little damp and towel-dried. "To active the foam, you simply pour it into your hands and massage it in your hair," she adds. If you see it turn white, don't worry – that's normal. Brush through with a paddle brush and voilà: long lasting, non-shrinking curls.
Coily Hair
Believe it or not, Johnson recommends using the same curl-defining creams for the tighter hair curl patterns of looser hair types. She says the only difference is that the amount of product you would use: Coily hair needs way more than a looser curl, since it's way more porous. "Oribe Curl By Definition Cream is light and fluffy, and really defines the hair," Johnson notes. "Just remember to make sure all your conditioner is washed out to see it work to its fullest potential."