These Natural Hair Products And Tools Keep Waves, Curls, And Coils On Point
Imaxtree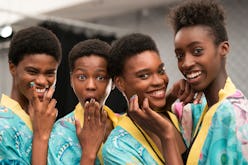 Confession time: I'm a little tired of my natural hair. Don't get me wrong — I fully embrace my thick head of type 4C curls (meaning, my shape is more coily than wavy). I love how my copper color catches in the light, and am never not mesmerized by the magic of shrinkage: When in its normal state, my Afro is on the shorter side. But when pulled out or straightened, my hair is nearly shoulder-length. I do love my hair. I just hate washing and styling it, especially in the winter — which is why I'm opting for braids and weaves until spring.
Natural hair is on the drier side, which makes it delicate. Meaning, it requires a lot of daily maintenance that I'm personally way too impatient for. But when my curls are out in between appointments, I'll have plenty of new natural hair products to try.
Summer is usually all about wash-and-go styling, because humid air makes drying a breeze. Most of the new launches from Ouidad, Mizani, and more are ultra-hydrating, and help maintain the same type of definition you get with a fresh shampoo or a co-wash. And the tools, like Dyson's new Airwrap and Drybar's straightening brush, provide a sleek texture switch up, sans the flat iron damage. I might be tired of my hair, but the 11 products are poised to make me fall again.
For Waves
For Curls
For Coils