The 6 New Brands Showing At NYFW That Your Friends Don't Know About Yet
Courtesy of Caroline Hu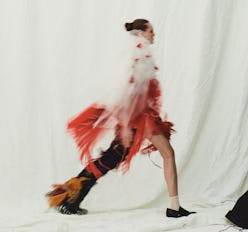 New York Fashion Week has been in a state of flux for years. Designers come and go, front rows are filled with a changing mix of editors and influencers, and this September, the week will be shortened from eight to six days. But what hasn't changed is the fostering and celebration of young, burgeoning talent — and that notion is particularly true to the history of fashion in New York. Amid the mainstays that anchor the city like Tom Ford, Marc Jacobs, Michael Kors, and Carolina Herrera, New York Fashion Week's emerging designers take to their respective stages — or outdoor tracks or high school gyms — to offer a new, raw perspective that major labels simply can't, helping to shape the future of what fashion can and will become for decades to come.
Below, you'll find a selection of these boundary-pushing young designers that are currently molding New York Fashion Week. Some are only a few seasons in, while others have had more of a slow burn effect, growing into their potential over the last few years. Either way, these up-and-coming designers have already captivated the attention and admiration of editors, buyers, and stylists alike. And while it's no easy feat to secure the right support amongst the fashion crowd during one of the most harried weeks of the year, these designers have created points of view that are too moving to miss. Caroline Hu's mystical opulence and Deveaux's crisp interpretation of what's being worn — and coveted — on the streets on New York City, are two such examples of the visionary work worth keeping your eye on.
If there's one thing quirky New York-based label Paris 99 does best, it's finding its own authentic niche and leaning all the way in. Launched in late 2017, the brand was responsible for livening up Instagram feeds everywhere with sweet, colorful gingham dresses inspired by founder Paris Starn's great-grandmother's aprons. They were a little rockabilly and a little prep — a not-so obvious, but seemingly perfect way to introduce Paris 99's unique fashion point of view to the world.
With its Spring/Summer 2019 collection, Starn injected even more of her perspective, sharing with TZR that she was inspired by bridging the "restrictive ideas of female roles in the 1950s to liberation both outside and inside the home, present in the 1960s and ongoing today." With the thoughtful adornment, like handmade cherry buttons and zipper pulls, and poking fun at restrictive notions of femininity by consistently incorporating flower designs and mini silhouettes, Paris 99 offers a light, but truthful position in the ongoing conversation of how fashion interprets modern society.
"In the wake of the #MeToo movement, I think there was a group of people who wanted to reclaim, embrace, and actively express their power through femininity," Starn notes. "[Paris 99] observes, with a revisionist lens, the trends and fashions that originated in times where women did not have the rights and freedoms they do now."
Caroline Hu was born in Shenzhen, China, where her artist father encouraged her at an early age to learn oil painting. Years later, a knowing teacher suggested she explore other mediums — and her love of fashion design was born. She mastered her craft at Central Saint Martins for her undergraduate studies, followed by Parsons for her masters, and later went on to work under American fashion mainstay designers including Tory Burch and Jason Wu. It's an impressive resumé for a 30-year-old designer, but if her debut collections have are any indication, this is truly only the beginning.
"I have always had a love for romantic and emotional things, delicate details and textiles," Hu shared in an interview with The New York Times Style Magazine earlier this year. Those sentiments ring true through all of Hu's work, where expert craftsmanship meet opulent textiles — like tulle, velvet, and silk — along with a delicate vision, reminiscent of water colors, ballet, and Monet's freehand drawing, of which her debut New York Fashion Week presentation was inspired by.
Womenswear designer Kim Shui has found new ways to keep her collections fresh, exciting, and her own very particular brand of sexy since she founded her namesake label in 2016. Whether its a printed body-hugging mini dress with matching evening gloves, or a structured brocade bustier, Shui has a knack for creating garments that encourage feminine sensuality fully narrated by the women wearing the pieces — not for the men that may cross their paths.
Shui's wearable creations have been coveted by the celebrity set too, counting names like Kylie Jenner, Gigi Hadid, Solange Knowles, and Cardi B as fans and regular customers. With these growing co-signs, the momentum makes it easy to anticipate how Shui will rise to the occasion. What's more, Shui's commitment and constant celebration of diversity in her castings is always an added delight.
It's been a big year for Christopher John Rogers. After his second-ever New York Fashion Week presentation this past February, Rogers claimed a spot this past June as a finalist in the 2019 CFDA/Vogue Fashion Fund. His celebrity clientele spans from Michelle Obama, to Kim Petras, Lizzo, and Tracee Ellis Ross, and he's won over the hearts of fashion's inner circle just as quickly. With the brand's larger-than-life pieces and visceral, colorful vision, Christopher John Rogers creates fairytale worlds that still feel real, clothing inspired by comedy that still feel serious and regal.
"I'd like to see my clothes on people who naturally gravitate toward the pieces and the sincerity of the design," Roger shared in a 2018 interview with the New York Times Style Magazine. "I want them to identify with the joy and thoughtfulness that can come with dressing up."
It's only fair to assume that this coming season will mark an even bigger, more exciting chapter worthy of following along with, as the brand will be holding its first runway show in lieu of a more scaled-back presentation.
Friends and Parsons grads Yuner Shao and "Stef" Puzhen Zhou are the curious founders behind contemporary ready-to-wear line Refuse Club. While based in New York City, both designers hail from Chongqing, China — one of the many places in China that banned any discussions of the #MeToo movement on social media and news networking sites. In reaction to their disbelief, Refuse Club was born.
"Refuse Club is not just a brand, but also a personal art project to the two of us," Shao tells TZR. "We talked a lot about politics and propaganda when we were in school together, but we didn't have any medium to convey our opinions. Refuse Club is a space to make our thoughts which were private into a public discussion. We appreciate the fact that we are allowed to speak with our art and will be carefully using visual languages as a tool to share and absorb."
With their drive, mission, and pure craftsmanship, Refuse Club offers a seamless range of tough, structured outerwear and loose, feminine garments in luxe fabrics that fuse their experiences and influences of both the United States and China together. "As Euro-centric brands are excellent at expressing femininity through figure-hugging silhouettes, we found beauty in loose-fitted, traditional designs that complement the so-called imperfections of natural human body."
Deveaux introduced itself as an American contemporary brand to watch at the very start of its inaugural show last season, with impeccable tailoring, classic silhouettes, luxe, traditional fabrics including wool, cashmere, and cotton.
Led by creative director and established fashion photographer Tommy Ton, Deveaux's garments — minimal, and workwear-inspired — offer a unique perspective that values style and wearability equally. And somehow, it's done in a way that doesn't feel bored or overthought. It's cool, and crisp, and under the guidance of Ton, an exciting interpretation of what's being worn in the streets of New York City.