These Were Hands Down The Biggest Trends To Hit The SAG Awards Red Carpet This Year
Jon Kopaloff/Getty Images Entertainment/Getty Images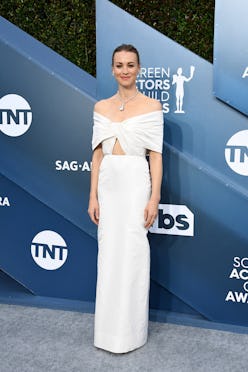 At first glance, awards show red carpets often just seem like a big crowd of glittering dresses, long trains, and really high heels. But when you look closer, it becomes obvious, year after year, that there's more to it than just that. Case in point: the fashion trends at the 26th Annual Screen Actors Guild Awards that absolutely took over the red carpet.
And, while yes, many of the trends did include long, shiny gowns and glamorous shoes, it was much more nuanced than that — and there were several trends that clearly stood out from the crowd. Pink was one of the central themes of the evening, making a comeback from the 2019 awards-show season in the form of a satin fuchsia bustier dress by Louis Vuitton on Sophie Turner and a flowing pink number by Monique Lhuillier on Elisabeth Moss.
Pants also had a (very chic) moment: Millie Bobby Brown kicked off the trend for the evening in a white Louis Vuitton dress with pants underneath, and stars like Patricia Arquette and Chloe Coleman kept the look going in an equally stylish way throughout the event.
Keep scrolling for the rest of the trends that dominated the 2020 SAG Awards, ahead.