These Edible Skincare Products Are *So* Good For You, Inside And Out
Four Sigmatic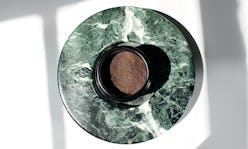 Yesterday, I ate my new favorite face mask. That's not as weird as it sounds — it was the just-launched Four Sigmatic Mushroom Face Mask and Tonic, designed specifically to be used inside (as a dietary supplement when stirred into a latte) and out (as a 15 minute mask). The product is the latest in a small-but-mighty selection of edible skincare products made with ingredients pure enough to eat. The trend gives multitasking a whole new meaning — and if the ever-blurring line between skincare and wellness is any indication, it's one that's only going to get bigger from here.
Those who favor all-natural skincare products are early adopters of this inner-meets-outer beauty movement. "It is now becoming more and more understood that skincare is treated both in and out — and sometimes by the same ingredients," Priscilla Tsai, the founder of natural beauty brand Cocokind, tells The Zoe Report. "Consumers have become more educated and skeptical about the traditional ingredients in their skincare products, and this is forcing skincare brands to get inspired by real superfoods and natural ingredients for their formulations." Cocokind is one of those brands — its Chlorophyll Mask is a hit with customers for two reasons: The blend of spirulina, wheatgrass powder, and chlorella powder detoxes skin and reduces inflammation on contact; and it can be mixed with water to help the body detoxify from within.
This whole "eat your skincare" thing isn't a just a marketing ploy, either — derms and nutritionists agree that a handful of superfoods are equally effective both ways. "We know that vitamins applied topically can be beneficial to the skin," Dr. Aanand Geria of Geria Dermatology tells The Zoe Report. "For instance, chlorella [found in Cocokind's mask] is a form of algae known for its antioxidant benefits as well as magnesium, iron, and zinc, which all fight inflammation."
"Chlorella, a blue green algae, is rich in amino acids, vitamin C, and omega-3 fatty acids," Karin L. Hermoni, PhD, Head of Science and Nutrition at Lycored, adds in an email to TZR. "Ingesting these can help provide glowing skin."
Adaptogens, the buzzy wellness supplements on everybody's lips (and faces) right now, also deliver a one-two punch. "Our Mushroom Face Mask and Tonic is the first purifying face mask that doubles as an adaptogen tonic," Tero Isokauppila, the company's founder, tells The Zoe Report. Made with a mixture of mushroom extracts, cacao, herbal gotu kola, and activated charcoal (among other powders), the ingredient label reads more like my Whole Foods shopping list than anything else.
"Charcoal binds to bacteria and dirt in your pores, bringing it up to the skin," Dr. Geria explains; while nutrition expert Dr. Hermoni adds that it can "help detox the skin from the inside out, which can help with acne and impurities." The other stars of Four Sigmatic's tonic similarly boast double-duty benefits. Gotu kola has been scientifically proven to boost circulation from the inside and tighten and firm skin from the outside; and cacao has "high levels of antioxidants, soothing anti-inflammatory effects, and moisturizing omega-6-fatty acids," according to Dr. Geria, and has even been shown to boost heart health and your mood, per Dr. Hermoni. (I've personally used the blend on my face and my pores felt positively purified afterwards; I've mixed it with water and coconut milk as a pre-bedtime tonic, too — and honestly love it both ways.)
Looking for a literal lit-from-within glow? Try a dose of ground pearl, as found in Moon Juice Pearl Powder. "Pearl calms redness when used as a mask," Dr. Geria notes — and its particles refract light to make you look luminous. According to Dr. Hermoni, pearl has a high protein and mineral content that helps with cell regeneration and pollution protection when ingested. "Add a pinch to your moisturizer or brush directly onto skin before bed," Moon Juice instructs on their site.
The process of mixing and applying a dry mask has its own upsides, too. Since you can choose which binding substance to blend it with — water, face oil, yogurt, or honey (to name a few) — you can tailor it to your skin's unique needs. "For example, if your skin is on the drier side, add more facial oils or coconut milk as your carrier," Tsai says. "If you're sensitive, you can make it a thinner mask by adding more water — we specifically left the mask as a powder to keep the ingredients list as minimal and suitable for sensitive skin as possible." Honey makes for smooth, soft skin; and yogurt delivers a dose of barrier-boosting probiotics.
Of course, you can't just ingest any natural face mask in your collection — only consume substances that are specifically designed to be taken orally. Cocokind Chlorophyll Mask and Four Sigmatic Mushroom Face Mask and Tonic both work well with plain old water (although the chlorophyll tastes better in cold water, and the mushroom tonic is best served hot); while Pearl Powder is the perfect addition to a morning smoothie or latte.
Ahead, discover the dual-action products about to take over your bathroom and kitchen #shelfies.