If You're Obsessed With Supergoop! Sunscreen, You're Going To Love Its Latest Drop
Supergoop!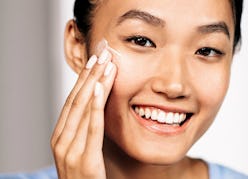 The lid on top of Supergoop! Superscreen's jar isn't just pretty — though the brand's packaging is on point. Stamped with the phrase "every single day" in bright capital letters, it serves as a reminder of how often you should be applying sunscreen. Which is, as Supergoop! puts it, every single day.
Which is, as you may know, not always that easy. Finding a high SPF sunscreen that's non-comedogenic (and doesn't have that strong sunscreen smell), is a slightly time-consuming step. But actually figuring out when and how to fit it into your skincare routine? After cleansers, toners, serums, eye creams, and moisturizers, stopping before your makeup routine to apply sunscreen may slip your mind.
Since launching Jan. 1, Superscreen has solved this skincare dilemma by simply consolidating two steps into one. The non-scented $38 cream is just as much a protective sunscreen as it is a bouncy, hydrating moisturizer you'll want to use everyday. "First and foremost, Superscreen has been clinically tested and is certified as non-comedogenic, which means it won't clog your pores," Supergoop!'s founder and CEO Holly Thaggard tells The Zoe Report over email.
"Beyond that, it's completely one-of-a-kind in that it's packed with the perfect balance of clean, feel-good, skin-nourishing, efficacious ingredients that provide maximum hydration and SPF 40 protection," Thaggard says. "The bottom line is that you just won't find this kind of groundbreaking science and thoughtful innovation in your typical drugstore sunscreen."
And you should use Superscreen each morning, even if your only plan for the day is avoiding the outside world entirely to watch Netflix on your sofa. The moisturizer is formulated with the rare mineral Cerium, which reflects skin-damaging blue light emitted from digital screens.
"While UVB rays penetrate the outermost layers of skin, blue light penetrates into deeper layers of the skin, causing things like hyperpigmentation, age spots, and melasma," Thaggard explains. "If you're anything like me, you probably spend a good bit of time scrolling through Instagram on a daily basis, so we want to put ingredients in our formulas that will help protect your skin."
While the formula works double time to shield you from the sun and your screens, Superscreen also doesn't skimp as a moisturizer. Actives found in blue-green algae repair skin while other plant-based ingredients block out the environmental pollution your face is exposed to daily. If this is your first time trying out an SPF skincare or makeup routine, Thaggard notes that fitting Superscreen in is easy: just apply it like any other moisturizer.
"Currently I'm obsessed with wearing it over of Vintner's Daughter Active Botanical Serum, which contains a whopping 22 botanicals and essential oils — and it smells amazing!" Thaggard says. She also notes the importance of what she calls an "SPF wardrobe" — or, layering on more sun-shielding makeup products like Supergoop!'s matte makeup primer, CC cream, and setting powder. "This little 'outfit' gives your skin such a flawless finish — not to mention all the full-spectrum protection it needs," she says.
Shop Superscreen below, or browse all of Supergoop!'s SPF skincare and makeup products on its website.