The Sakara Life Beauty Supplements That Actually Work (& Taste Good, Too)
Sakara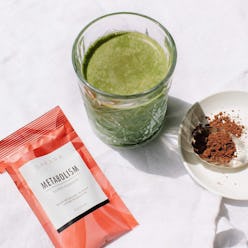 I've never met a skincare supplement I didn't like. I've only met a handful that I truly love, though, and most of them happen to be Sakara Life beauty supplements. The meal-delivery-service-turned-online-wellness-boutique offers plant-based smoothie mix-ins, energy bars, and beauty-boosting chocolates that not only look pretty (the packaging is seriously chic) — but they actually work, too.
To be honest, the real reason I love Sakara so freakin' much is its philosophy: Food should make you feel sexy. The brand's founders, Danielle Dubois and Whitney Tingle, dropped this little nugget of wisdom when I interviewed them a couple years back, and it's stayed with me ever since. Sure, "feeling sexy" is subjective. But the way Dubois and Tingle described it — being comfortable in your skin, supporting your body's inherent power, finding more balance and less stress — is pretty much universal. "Food is by far the most important piece in finding balance for me," as Tingle said. "It controls your mood, brain clarity, body weight, energy, everything." And, of course, your skin.
Ahead, the seven best food-based beauty and wellness supplements from Sakara to make you feel downright sexy — whatever that means to you.
Beauty Water Drops
I've written about these Beauty Water Drops a few times before, because they're just that good. The blend features 72 trace minerals to help keep your body — and skin cells — hydrated. (Did you know that minerals are just as important as water when it comes to hydration?) At the same time, the silica inside supports your skin's natural collagen production, while rose water tames inflammation. I stir five droppers into a tall glass of water every morning without fail. Do the same, and you should gradually notice results within a few weeks.
Metabolism Super Powder
I recently turned 30, and my metabolism has for sure taken a hit. Enter: Metabolism Super Powder, the newest addition to Sakara's lineup. It features celery seed, a natural bloat-buster; L-Glutamine, an amino acid that aids in digestion; and a touch of black pepper to naturally kick-start metabolism. I add a packet to my usual smoothie a few times a week — especially the morning after Taco Tuesday (or Hot Wings Wednesday, or French Fry-day… that's a thing, right?). I notice less bloating almost immediately.
Detox Bars
Anyone else really lazy when it comes to making breakfast in the morning? I suggest picking up a box of Detox Bars. They've got a light vanilla-cashew flavor for taste, but rely on spirulina, a blue-green algae, for "detox" power. According to Sakara, spirulina is the most nutrient-dense food on the planet and has been clinically proven to reduce inflammation and support heart and liver function. In other words: This bar is like a (delicious) nutrient infusion.
Beauty Chocolates
Filled with plant-derived phytoceramides and antioxidants from raw cacao, Sakara's Beauty Chocolates supposedly plump and protect your skin. Honestly, all I can tell you is that they help me feel good about eating chocolate every day, and that's enough.
Energy Bars
I love knowing I have a snack hiding out in my purse in case of hunger emergencies, and these Energy Bars are my on-the-go go-to. The inclusion of dark cacao makes them feel almost like a chocolate bar — except instead of making me sluggish, they boost my energy levels in a matter of minutes (that would be the vitamin B3 and L-Theanine).
Detox Water Drops
Chlorophyll, the only ingredient in the Detox Water Drops, has been shown to boost liver function, strengthen immunity, and ease digestion… which is exactly why these drops are a non-negotiable part of my pre-bedtime ritual. Don't expect shocking results: I started drinking Detox Water years ago and, over time, realized I just felt better.
Youth + Beauty Tea
Hibiscus flower is the star of Sakara's Youth + Beauty Tea. I started drinking this after hearing a dermatologist refer to hibiscus as "nature's Botox" and never looked back. Does a cup a day keeps the syringes away? So far. Does it make me feel sexy? Absolutely.