The Ingredient That Makes Your Skin Look Younger
Matteo Valle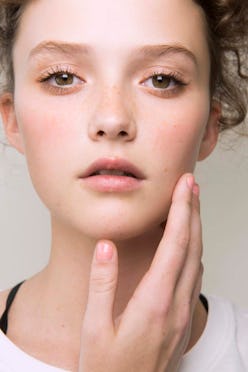 Plenty of products promise to give you younger-looking skin, but the secret to reversing wrinkles is to work with what you've got. Enter ceramides, lipid molecules found naturally in skin that hold cells together to retain moisture for a supple, youthful complexion. The older we get, the more ceramides we lose (thanks, sun damage and free radicals), resulting in fine lines, wrinkles and sagging skin. The solution? Feed your skin with more of them. Here, we've rounded up eight products packed with the age-defying ingredient. Who says you can't turn back time?
Turn Back Time
Sheet Mask
Formulated with 30% coconut water and ceramides, this sheet mask hydrates parched skin, leaving your complexion dewy and bright.
Night Cream
Ceramides in this night cream restore the skin barrier, making it look healthier by morning.
Cleanser
Provide your skin with 24 hours' worth of hydration, even after you wash off this cleanser. Translation: more hydration, fewer wrinkles.
Toner
Get a deep clean without stripping your skin of moisture. Perfect for even the most sensitive complexions.
Serum
Hydrate and soothe irritated, dry skin with this ceramide-packed serum.
Eye Cream
Target deep-set crow's-feet with this hydrating eye cream. Pro tip: Keep it in the fridge to instantly de-puff tired eyes.
Moisturizer
This lightweight, non-greasy daily moisturizer fights free-radical damage and hydrates skin without clogging pores or causing breakouts.
Face Mask
Give skin a lift with this firming mask that works to reduce the appearance of wrinkles, increase skin firmness and moisturize.
Tinted Moisturizer
A true triple threat: This all-in-one BB cream hydrates, protects from UV rays and gives your skin natural, even coverage.
Lip Balm
Lips can show signs of aging too. Apply this ceramide-infused tinted balm to keep your pout supple and wrinkle-free.