This Single-Table Restaurant In Italy Is Said To Be The Most Romantic In The World
@kubuatmandapa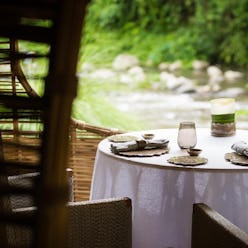 Enjoying local fare is often a top factor on most travelers' itineraries. From delicious street food to authentic delicacies every jet-setter knows how important culinary experiences are to a vacation. This is also true of getaways for two. In fact, indulging in one of the most romantic restaurants in the world can take a trip from great to truly legendary.
Couples looking for a little bonding time can find it in a variety of ways while on vacation. Sharing an adventurous experience or enjoying a relaxing side-by-side spa treatment are all worthy options. However, there's something especially memorable about enjoying a delicious and truly decadent meal with a loved one in a remarkable location. Luckily, restauranteurs and hoteliers recognize this important travel aspect and have done their part in creating some seriously romantic eateries all over the world.
Above being intimate in atmosphere, many of these establishments also up the ante with unique touches that make these experiences extra memorable. From private bamboo pods in the jungles of Bali to a single-table restaurant in Vacone, Italy, these couples-centric restaurants are truly not to be missed. Ahead, see six of the most romantic eateries in the world, worthy to book an entire vacay for two around. Oh, and they're all recommended from travel influencers, agents, experts — so you know they're legit! Bon appetit.
"I just recently received amazing feedback from my honeymoon clients about Kubu at the Ritz Carlton Mandapa Reserve in Ubud, Bali. The setting couldn't be more romantic — there are nine private bamboo cocoons nestled along the river in the jungle. The candlelit tropical location allows guests to relax while enjoying the Mediterranean menu. Couples should book a few months in advance to secure a private cocoon — a must-do in Ubud!" —Marisa DeSalvio, founder and travel agent behind DeSalvio Travel, a luxury travel agency based in Washington DC
"Perched on the cliffs in one of the world's best whale watching locations, Birkenhead House has one of the most romantic dining settings in the world. At times, it's hard to keep your eyes on your meal as you'll be treated to whales breaching right in front of the property. The only thing that can rival the view is the incredible cuisine, which is a blend of local seafood and Malay influence. Hermanus is home to incredible wine lands, as well, which help round out the offerings at this incredible property." — Eric Rubens, travel influencer on behalf of Wells Fargo Propel Card
"Located 65 minutes outside of Rome is Vacone, a little village in the province of Rieti. In Vacone, there is a restaurant called Solo Per Due: this means 'just for two.' It is exactly how it sounds — there is only one table at Solo Per Due and they only take in two people at a time! You can explore the restaurant's gardens and enjoy the views of the valley, seeing vineyards and olive groves. Solo Per Due is a very romantic location; they have guests record their love stories and keep them in books at the restaurant for other guests to read! This creates much a romantic atmosphere for the meal. For your food, you can expect traditional Italian cuisine made with fresh ingredients and your meal is accompanied very fine wines." — Shelley Ewing, Owner and President of Tier One Travel
"With gorgeous views overlooking the Seine River and Notre Dame, La Tour D'Argent is an amazing, luxury culinary experience. This restaurant has hundreds of years' worth of fascinating history. The wine list is very impressive and consists of 15,000 different wines over 400 pages. At Tour D'Argent there is a formal dress code in place: elegant dresses for ladies, and suits for men. This alone creates a romantic atmosphere, with everyone looking their best. Reservations for private dining are available for an even more intimate experience. With the views and the culinary experience at Tour D'Argent, there is no doubt that this is one of the most romantic restaurants in the world." — Shelley Ewing, Owner and President of Tier One Travel
"The first thing you won't fail to notice is the restaurant's dream-like, unicorn-themed interior. Lining the walls are elegant unicorn heads, between white draped curtains and dollhouse-like windows. Beneath the sparkling chandeliers, you can't fail to get absorbed by the tranquility and dream-like nature. The food is included in a set menu and offers a delicious array of Argentinean and traditionally influenced meat-based dishes. I'd highly recommend the duck with orange, and the azafran risotto. If you want the romance to continue afterward, the hotel also has a great spa, 1920s-themed bar with tango, and a red velvet-draped lounge with comfortable leather seats for a quiet drink to finish up the evening." —Dale Johnson, Co-founder, Nomad Paradise
"I was captivated by the coziness of The Greenhouse at The Jefferson hotel. I loved the intimate atmosphere and the ability to speak with my dining partner without having to yell — such a plus! I loved the menu, especially the lemon ricotta pancakes. I highly suggest them for a romantic breakfast for two to share. Another plus to The Greenhouse is that, at night, it becomes The Jefferson's Michelin-starred restaurant Plume. When the space is dimly lit and the fireplace is roaring, it's definitely a swoon-worthy spot for date night." — Kate Oczypok, Washington, DC Travel Writer
The Cliff At Cap In Cap Maison: Saint Lucia
"The most romantic table in the Caribbean, Rock Maison offers private dining on a rocky outcrop at the base of The Cliff at Cap Restaurant at Cap Maison resort, where couples can enjoy their cold Champagne served to them by a zip-line. For those planning a proposal with a difference, a ring can be placed in a rose-filled basket and zipped along the zip-line, too!" — Chris Evans, Caribbean Specialist at Red Savannah, a luxury travel company specializing in tailor-made trips around the world.