The Vacation You Need To Go On If You Want An Adrenaline Rush
Jukkis/Shutterstock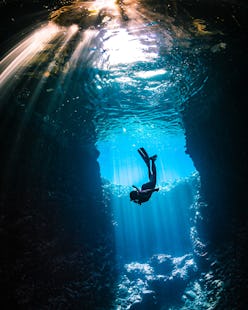 While the hustle and bustle of the winter holidays may be causing you to yearn for a peaceful respite, it seems there are many who are seeking the opposite. Yes, according to Pinterest, there's an insatiable curiosity among its users for all manner of adventure trips. Yes, in addition to the searches for cozy cabin getaways and warm beaches, Pin-ers are seeking thrills in the most interesting places.
And these exciting trips are not your run-of-the-mill excursions. While zip-lining through Costa Rican jungles and picturesque safari rides are all well and good, they are rapidly being overshadowed for more out-of-the-box experiences. These days, travelers are looking for off-the-cuff adrenaline rushes like cave diving, ice storms, swimming holes, and even abandoned amusement parks. Nothing is off limits and nothing is too thrilling.
So if you're long overdue for a winter getaway that will take you off the beaten path, take a page — er, pin — from the Pinterest boards. Ahead, eight popular blood-rushing trips that will be as memorable as they are fun. The numbers don't lie.
(One thing to note: Some of these options are indeed risky and dangerous, so proceeding with the utmost caution and doing your due diligence and research before taking them on is incredibly important. Adventure can and should still be safe.)
Fairy-Tale Places
Beautiful white-sand beaches with clear blue waters definitely hold their weight on the vacay scale, but it seems travelers are seeking even more idyllic views. In fact, whimsical places that are practically plucked out of one's imagination are on the menu these days, with Pinterest searches up an astounding 314 percent. Think the fairy pools on the Isle of Skye in Scotland or Cinque Terre on the Italian Riviera. It might be time to stop dreaming and make those fantasy vacays a reality.
Swimming Holes
These aren't the small lakes you used to cannon ball into as a kid. No, adrenaline-seeking travelers are seeking exotic and off-the-grid swimming holes to dive into, according to Pinterest searches, which are up 260 percent on the topic. If this piques your interest, try the legendary Sua Ocean Trench in Samoa or The Subway in Zion Natural Park, Utah.
Dangerous Roads
Looks like the road less traveled is a risky one. In lieu of skydiving and rock climbing, travelers are seeking death-defying trips on some of the world's most dangerous roads. While this type of sightseeing should be proceeded with absolute caution, the rise in search (211 percent), shows people are definitely taking a walk (or ride) on the wild side. If you dare, consider places like the North Yungas Road, a.k.a. The Death Road, in Bolivia.
Abandoned Amusement Parks
While it seems up-and-running amusement seem to be getting more and state-of-the-art these days, travelers are more interested in those that have been left to ruin. Pinterest searches for abandoned amusement parks like Takakanonuma Greenland in Japan and Spreepark in Berlin Germany are up 185 percent. While definitely a bit of a creepy and slightly spooky type of excursion, you have to admit there's an undeniable intrigue here.
Tree Tunnel
Right up there with magical and mythical landscapes are tree tunnels, which are up 145 percent in search. While you can absolutely search the world for these stunning natural masterpieces, many are in your backyard. For a tree tunnel joyride in the U.S., try visiting the Cypress Tree Tunnel at Point Reyes National Seashore, California or Oak Alley, which is just outside New Orleans.
Cave Diving
If swimming holes aren't your style, give cave diving a whirl for equal thrills — you'd be in good company. Searches for cave diving excursions are up 143 percent. If you want to follow suit, consider the open caves in Mellieha, Malta or Tulum, Mexico.
Scary Bridges
For those not aligned with a scary road, but need an equally exciting ride, a bridge might be more up your alley. According to Pinterest, searches for scary bridges are up 115 percent. If heights aren't an issue or you're looking to conquer that fear, this could be a bucket list trip for you.
Ice Storms
Maybe it's the wintery season or maybe it's the thrill of an icy wind, but apparently ice storm searches are up 103 percent. If this is your type of holiday getaway seek an icy climate with an equally picturesque landscape like Iceland or Alaska.