Sorry Italy, This Country Might Be Stealing Your Foodie Thunder
Piccia Neri/Shutterstock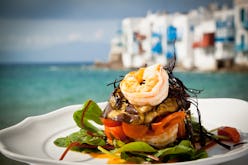 People plan vacations to take a break from the stressors of life or have once-in-a-lifetime experiences. But, for those with an adventurous palette, sometimes the focus is on getting a taste of the world by booking food-centric vacations — and relishing every single second (and bite). And while Italy and Greece are some obvious crowd-pleasers for foodies, there are many untapped treasures that have long flown under the radar ... until now.
Now that travel is more affordable and accessible than ever, hungry tourists are seeking the culinary equivalent of bucket-list adventures. But a lifetime dream to dive in the Sua Ocean Trench in Samoa shouldn't be the only reason to explore new lands. If you love food, and you love to travel, why not follow your tastebuds and eat your way through a beautiful country or city?
The beauty of the foodie trip is you get to have your cake and eat it, too — literally. You get to take in some culture and stunning views while also nourishing yourself with some world-renowned eats.
If your mouth is already watering at the thought of your next getaway, you're in luck. Ahead, the pros at TravelPirates and CIRE Travel give their personal picks for the best foodie cities the world over. While some require you to cross borders and oceans, others are surprisingly close to home. Either way, they're all worth it.
For Out-Of-This-World Asian Cuisine
Penang, Malaysia
Planning on touring Asia? Make Penang a mandatory stop to grab some grub. Alanna Smith, travel editor at TravelPirates, says that many backpackers consider this city to be the capital of street food. "From satay (meat on a stick) to noodle dishes to just so many soups (make sure to try laksa, a local specialty), there are options for every type of eater." If you find yourself in the mood for a sweet snack, "be sure to try some type of shaved ice dessert — they're often made with ingredients like condensed milk, rice flour jellies, and even corn."
Raffles Quay, Singapore
If you want to enjoy a world of eats on the cheap, Smith says that the street fare in Singapore can't be beat. "What makes Singapore unique is the amount of indoor and outdoor food halls packed with diverse food stalls," she says, recommending the Lao Pa Sat in Raffles Quay. "One of its stalls is even home to the cheapest Michelin Star meal in the world!"
Bangkok, Thailand
It's no surprise that Thailand's bustling capital is home to countless food carts. "Street food is everywhere in Bangkok, whether it's a noodle house or a bar on the side of the road!" says Smith. "Head over to Or Tor Kor Market for fresh seafood and fruit — try a piece of durian!" She also suggests heading to one of the nearby floating markets, where you can take a boat down the channel and stop at stalls along the way.
For An Immersive Experience
San Sebastian, Spain
CIRE Travel's chief of staff Amy Brueckner says in this city, it's not just about what you eat but how you eat it. "The town is known for pinxto-hopping: going from bar-to-bar, having a bite-sized tapa and a small glass of wine or beer, then heading on to the next spot," she says. "It truly is progressive dining!" Some of her favorite pinxto stops include La Cuchara de San Telmo for foie gras, Bar Nestor for lomo (cured pork tenderloin) and steak, Tamboril for their mushroom skewers, La Mejillonera for mussels, and A Fuego Negro for mini-wagyu burgers and fried chicken. She adds that the city is also home to many Michelin starred hot spots, like Arzak and Mirador de Ulia.
South Africa's Garden Route
If you really want to dive into local culture, plan a food tour across the southern tip of Africa. "Drive the beautiful Garden Route and sample some of Southern Africa's best food and wine," suggests Katy Rebrovich, senior leisure agent at CIRE Travel. There, you can try everything from "exotic game meats like springbok, kudo, wildebeest (makes great jerky), and ostrich to incredible seafood, all paired with delicious local wines and exceptional vistas." She adds that tourists must make a stop at Creation, a winery with a tasting room that offers pairings with food and chocolate (non-drinkers can opt for locally-sourced teas).
Sydney, Australia
Taste the flavors of "the land down under" by dining on dishes inspired by the sea. "Sydney is one of the best places in the world to buy and eat seafood," explains Smith. She adds that markets and festivals are a great way to sample the local cuisine and culture. "What we really love about the city is the huge amount of street food festivals hosted annually. Sydney offers everything from Night Noodle Markets to food truck and chocolate festivals."
For A Taste Of Europe
Rome, Italy
What flavor-chasing bucket list would be complete without a trip to Rome? Aside from the Coliseum and the Trevi Fountain, Italy's capital is home to some of the most delicious dishes in the world. "Rome has been filled with vibrant markets for literally a few thousand years," explains Smith. Luckily, the stalls offer small bites so you can taste your way around the city. "One of the best is Mercato di Testaccio, but make sure to take a step back in time and visit the Campo de' Fiori market. And obviously, don't forget to pick up a slice of pizza from a street vendor!"
London, England
Consider London when planning a trip for your palate, as the city's classic comfort food dishes are certainly crave-worthy. Rebrovich says there's nothing like "a good pub lunch," and of course, tourists must try staples like Yorkshire pudding and fish and chips. In addition to traditional fare, London has no shortage of cultural cuisines. Brick Lane in the East End has "arguably the best curries outside of India (some would say even better)."
Athens, Greece
If you didn't already know, this Mediterranean country has a vibrant street food scene. "Athens is bursting with unique street carts and food markets," explains Smith. "Try out Kafti Patata or The Falafel Project for yummy, high-quality street food." And if you want to experience life as a local, Smith suggests going for "an immersive Greek experience — check out the Central Market for tasty dishes and and jugs of wine."
For A Culinary Adventure Close To Home
Queens, New York
Depending on where you live, the flavors of exotic lands might be just around the corner. "I may be biased, but my hometown of Queens, New York has the best, and biggest variety, of international cuisines," says Eric Hrubant, who's been all over the world as the president of CIRE Travel. Some of his favorites include the Jackson Diner for Indian food, Kung Fu Xiao Long Bao for Chinese, and Park Side for Italian.
Rosarito Beach, Mexico
Esther Klijn, who specializes in honeymoon and high-end leisure business for CIRE, swears that the border between California and Mexico has some of the world's best bites. "We used to drive down to Rosarito Beach [from California] to surf and stop for some of the best al pastor tacos," she says, referring to tacos filled with spit-grilled meat. "Don't worry about the exact spot; just look for places with long lines." For a more a high-end spot, Klijn suggests Mision 19 in Tijuana. "They have a great chef's tasting menu with an equally great wine pairing," she says.
Washington, DC
Jason Villacres, who specializes in both leisure and corporate travel for CIRE, says he had an unforgettable meal in our nation's capital. "There's a lot of culinary creativity going on [in DC], and to this day, the best burger I've had is at Founding Farmers (reserve well in advance)." He recalls, "The first time I went, I ordered the California burger and was in burger heaven." He also suggests Grillfish, a sustainable seafood restaurant, saying "I still dream about their fish chowder."
Portland, Maine
On the hunt for fresh-caught seafood and craft beer? Brueckner recommends putting this New England city on your radar. "Of course there are plenty of incredible lobster roll spots, but don't neglect that other saltwater delicacy: oysters!" she says, pointing out that local breweries are "popping up" everywhere. Fore Street, Duckfat, and Eventide Oyster Co. are some of Brueckner's must-stop Portland eateries.