The Spanish Restaurant Foodies Travel Far & Wide To Indulge In (That You've Never Heard Of)
Alux Restaurant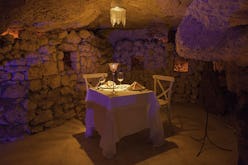 With travel becoming more accessible (and affordable) than ever before, wanderlusters are seeking out experiences all over the world. Bucket lists aren't just for destinations anymore, and with the rise of the experiential trend comes an increase in foodie travel. And, for good reason: There are countless hidden gem restaurants worth traveling for, and if you know where to look, the most memorable meal of your life may be a plane ride — or, a mere road trip — away.
But is a stellar menu really worth crossing borders for? Caroline Potter, OpenTable's chief dining officer, tells The Zoe Report that plenty of die-hard diners think so. "When people book a flight, the first question they typically ask on social media is, 'I'm traveling to [city name]; what are your restaurant recommendations?'" she points out. "I've personally booked travel after securing a hard-to-get reservation at a hot spot like Pujol in Mexico City. We continue to hear anecdotes of friends and colleagues approaching travel similarly, and even heard from one woman planning her honeymoon to Thailand for both the street food scene and the chance to dine at Gaggan and Nahm."
Chances are, where there's one good plate of nosh, there's bound to be more; if a restaurant piques your interest, Potter recommends researching the surrounding food scene. "Where are the markets locals shop at? Are there food courts or stalls that are popular with locals? Is there a food truck hub or any food events or festivals happening? Travelers can also consider signing up for a walking tour of local food markets. This will offer great insights into local specialties, food customs, ingredients, and their influence on the cooking scene."
If crafting an itinerary from scratch sounds daunting, stay tuned. Ahead, check out 22 hidden gem restaurants around the world (listed in no particular order), according to KAYAK and OpenTable's Will Fly For Food survey. The travel and restaurant booking sites joined forces to uncover these under-the-radar dining locales, based on KAYAK's most popular destinations from the last six months and OpenTable's highest-reviewed restaurants near those cities. Head to each link, and you'll find reservation and ordering tips, as well as flight and hotel options (plus more) for seamless planning within your budget.
So next time you head out of town — or out of country — try following your palette for a scrumptious adventure you'll never forget.
In addition to the food, Alux is worth a visit for the atmosphere; it's located in a cavern that's thousands of years old.
Come here for an actual taste of Hawaii, thanks to a farm-to-table menu filled with local ingredients (plus craft cocktails to wash it all down).
Pizza becomes a delicacy at CRUST, which boasts an overflowing menu that includes classic Italian dishes.
For those with an affinity for all things kitschy, duck into this nostalgic joint and you'll be surrounded by old-school decor inspired by Vegas history.
Like this eatery's interior, the farm fresh food at Frances is simple, yet polished to perfection. (Kayak tip: Don't miss out on the chickpea fries.)
Get a taste of Europe in the heart of Chicago at this French bistro, a favorite among locals.
This fusion hot spot is perfect for adventurous eaters with refined palettes. Pictured above: Madagascar's Vanilla Ice Cream with Lieja's waffle.
Grab at bite at this joint in SoHo, known for its cozy, inviting atmosphere and gourmet bistro fare.
Located in Boston's Little Italy (of course), this North End nook offers high-end courses and views of the neighborhood's charming brownstones.
Soak in a century's worth of Hollywood history at the Musso & Frank Grill, which serves food fit for the stars.
After touring the town, make at stop at Omonia, offering delicious Greek fare and sleek, casual vibes.
Savor Italian delicacies while vacationing south of the border with a reservation at Rosetta, a restaurant set in a historic mansion.
At Savio Volpe, the Italian cuisine is rustic, authentic, and shareable with your fellow diners.
Get a taste of the classic German staple and pair it with a domestic pint. Note that they serve up vegan and vegetarian options, too.
Vino lovers, add this spot to your itinerary. Here, you'll enjoy small plates and sweets as you sip from a selection of wines.
This waterside restaurant is romantic without being stuffy, thanks to prime real estate and an Italian menu that's sophisticated but not pretentious.
Touted for its elegant decor and fresh local cuisine, Tatel is buzzing at all hours — a perfect haunt for hungry night owls.
You can't come here without indulging in a craft cocktail, of course, but this places is also beloved for its tasty tapas and posh art deco decor.
This newer restaurant has already earned itself a stellar reputation, thanks to its responsibly sourced seafood, savory small plates, and unique selection of wines.
Casual but refined, Terroni-Queen is known for serving up southern Italian classics in the historic neighborhood of Queen West.
There's nothing like a burger done right — order this menu classic at The Tap Room, and it's sure to hit the spot. (Bloody Mary optional.)
Nestled in a centuries-old building, Van Speyk is warm, welcoming, and has a menu that highlights French and Dutch flavors.