The $500 Facial That Models Always Get Before Fashion Month
JP Yim/Getty Images Entertainment/Getty Images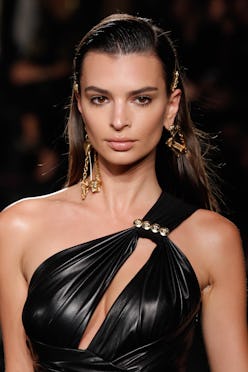 What do Helena Christensen, Karlie Kloss, and Emily Ratajkowski have in common? Well, kind of a lot. They're successful fashion models, and as such, have walked their fair share of Fashion Week runways and red carpets. All three also entrust their skin to the same woman: Joanna Vargas. If you've ever wondered how models prepare for Fashion Month — and keep their complexions fresh and clear despite the intense travel schedule, subsequent jet lag, and long work hours — the answer lies with Joanna Vargas' facial treatments.
According to Vargas, getting ready for Fashion Week (or any major event, really) can start as long as a month in advance. "If someone is a regular client, in my mind I'm prepping them all year," Vargas tells The Zoe Report. (For the record, some of those regular clients include Mindy Kaling, Elizabeth Moss, and Tessa Thompson.) "However, if I am seeing someone new and I'm specifically prepping them for a big day, then ideally I would like to have a month to prep," she says. That month includes head-to-toe pampering: facials, microcurrent devices, full-body massages, and multiple sessions in her LED light bed.
"My signature Forever Facial and Triple Crown Facial, plus the LED Light Bed, are the most popular treatments," Vargas reveals, saying that celebrities' top-requested service is the Forever Facial. "It uses radio frequency to really tighten the skin beyond anything I have ever encountered before in non-invasive technologies," she explains. "It combines heat with radio waves, a type of electrical current, to increase collagen production and to push your collagen fibers back together — because they spread as we age." Vargas says the results mimic "an instant face lift," and since there's no redness, peeling, or irritation afterwards, it's easy for clients to hop up from the spa table and head right to the runway.
Her Triple Crown Facial is similar in that it utilizes mild electrical currents and requires zero downtime. "It drains puffiness, tones muscle, and tightens skin," Vargas tells TZR. For these reasons, models love to get the Triple Crown before a photoshoot (or run-ins with street style photogs). "Microcurrent will make you your cheekbones look high and your jaw and neck look really perfect for pictures," she says. The effects of this one are cumulative, too — meaning, the more often you go, the longer your results will last. But don't expect to find this tech anywhere else: The Triple Crown is a Joanna Vargas original, so it's only available at her New York City and Los Angeles locations.
If a model comes to her with irritation or inflammation, Vargas has just the thing: the Super Nova Facial. "It helps to calm irritated or stressed skin, while the hydration and contouring creates a perfect palette for makeup artists," she explains. "No one really likes to wear a ton of makeup on the [runway] and this facial makes wearing as little skin makeup as possible a reality."
Vargas' prep doesn't stop at the neck, though. "I also recommend the Lymphatic Drainage Full Body Massage because it drains the body of excess puffiness caused by stress, lack of sleep, and travel," she says — AKA, all the joys of Fashion Month. "It helps the lymphatic system carry away waste and delivery fresh nutrients to the cells to make the skin glow from head to toe."
If models come to Vargas with significant pre-Fashion Week prep time, the aesthetician suggests a minimum of 12 sessions in her RevitaLight Bed (one every other day for about a month). "My patented, full-body RevitaLight Bed uses LED Lights to heal the skin in a multitude of ways," she explains, noting that LED light has been shown to heal the skin at a whopping 300 percent faster rate than normal, as well as promote collagen production and reduce inflammation. "The treatments will improve your overall complexion for smoother, younger looking skin, without experiencing thermal damage, discomfort, downtime, scarring, or discoloration."
As if that laundry list of benefits wasn't enough, Vargas adds that RevitaLight is "also the key to keeping the skin super hydrated." So when you spot a model with glowy, dewy skin walking down the runway come September, she's almost sure to be a Vargas girl.