If You're Obsessed With Your NuFACE Device, You're Going To Love Its Latest Launch
IMAXTREE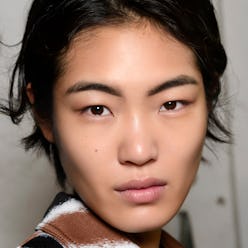 The intersection of science and skin care is one of the most exciting spaces to watch. Developments in dermatologist-level treatments that can actually be done at home give beauty buffs access to some of the best of skin-perfecting technology, no matter the time or place. Now, taking your anti-aging treatments on-the-go just got even easier, thanks to the NuFACE FIX device. The pocket-sized microcurrent pen delivers speedy skin-smoothing results, for a revitalized face in just three minutes — yes, seriously.
At-home beauty device brand NuFACE announced the latest addition to its line of tools on Feb. 5, with the launch of the NuFACE FIX device — the most compact tool of its kind that takes in-transit skin care to a whole new level of convenience. The FIX device, which can be compared in size to a tube of mascara or a pen, is now available on the NuFACE website, at Neiman Marcus and Nordstrom stores and online, and at Sephora.com and Revolve.com. It comes as a $149 kit, which includes a 30-day supply of the brand's NuFACE FIX™ Line Smoothing Serum.
Just how does the miniature-sized tool deliver instant, noticeable results? Not unlike the cult-loved NuFACE devices that came before it, the FIX tool uses microcurrents (which are FDA-approved, by the way) to banish fine lines, wrinkles, and puffiness — kind of like a mini massage that works to erase signs of aging. The travel-ready tool is ideal for targeting the areas around your eyes, mouth, smile lines, and forehead, so you can regain a wide-awake, rejuvenated look by smoothing away any telltale clues of exhaustion.
The key to supercharging the skin treatment, the brand says, is incorporating NuFACE's FIX serum, an energizing skincare product that promises to further firm and smooth skin. NuFACE formulated the serum, $49 for a full-size, with magnesium gemstone and hyaluronic acid to perk up skin, and give it a major dose of hydration that helps results last longer. Apply the serum to target areas ahead of treatment, then sweep the NuFACE Fix tool across skin in a quick erasing motion to work the product into skin and wipe out lines and wrinkles.
All it takes is three minutes per treatment area, so you can easily achieve a revitalized complexion just about anytime, or anywhere. The tool charges via a micro USB cable, so you can power up on a plane mid-flight or from the car — and considering how small the device is, you should have no trouble fitting it into your chic carryon suitcase.
If you still weren't convinced that this innovative tool is worth trying, a clinical study carried out by the brand delivered some seriously impressive stats. A whopping 97 percent of women reported tighter-feeling skin around the eyes, 95 percent said eye puffiness was noticeably reduced, and 92 percent said their target areas felt firmer instantly after treatment. Hard to ignore those results.
Got the proof you needed? Shop NuFACE's FIX duo below, and head to the brand's site for even more skin-perfecting products.