The Best Face Oils To Use Under Makeup, According To The Pros
@wolfe_and_von / Leland Francis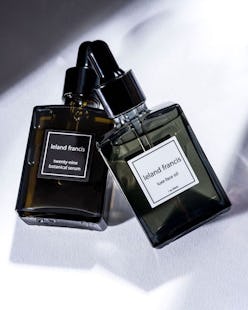 Foundation and face oil seem to live on opposite ends of the beauty spectrum: One is the first step in your morning makeup routine, and the other is for slathering on just before bed. Well, that's the way it used to be, at least. Now that the look of luminous skin is decidedly in, face oil is a day-and-night essential — it's just a matter of finding the right face oil to use under makeup. Preferably, one that won't leave your skin greasy.
Read more: How To Apply Face Oil Properly, Because You Definitely Need It In Your Routine
Makeup artist Dillon Peña, who works with celebs like Beyoncé and Bebe Rexha, was always on the hunt for The One: an oil that delivered the right amount of glow without making makeup melt. He couldn't find a product he loved, though (I mean, you've got to be picky when you're prepping Beyoncé's skin) — so he decided to start his own skincare line. "I wanted a face oil that was quick-absorbing, great on sensitive skin, and that wouldn't make foundation slide off," Peña tells The Zoe Report. "I wanted a product that was clean, natural, cruelty-free, and vegan — but felt luxurious and looked great sitting on a vanity or at my makeup station." Luxe Face Oil, the star product of Peña's newly-launched brand Leland Francis, checks all the boxes.
"It was meant to help prime the skin for a better makeup application," he explains of the proprietary blend of easy-to-absorb oils (including jojoba, argan, and rose, to name a few). "It helps with hydration and gives a subtle glow without shimmer."
Peña's plight isn't an uncommon one — it fits perfectly into the trend of makeup artists and beauty editors launching their own skincare brands after searching high and low for a product they wanted/needed but couldn't find. That's what inspired Gloria Noto, a makeup artist who's worked with Kendall Jenner and Olivia Wilde, to launch NOTO Botanics.
The brand's Deep Serum — a cross between a serum and an oil — "is practically a universal oil," Noto tells TZR. "It works with almost all skin types and sinks right into the skin, hydrating it, but not leaving it greasy." In other words, it was the perfect skincare product to keep in her kit, no matter who she happened to be working with that day. Thanks to lightweight marula and grapeseed oils inside, "it allows the makeup to settle onto the skin in a soft and natural way, gliding along, rather than getting caught on dry spots," she says.
How To Find The Right Face Oil To Wear Under Makeup
Of course, not any face oil will work under makeup — coconut oil, for example, is a heavy oil with comedogenic tendencies (meaning it can mess with foundation and clog your pores). "To ensure you're not using an oil that will break down your foundation or be too slippery, really do your research," Jaleesa Jaikaran, a makeup artist who glammed models throughout Paris Fashion Week, tells The Zoe Report. "A go-to oil for me is squalene oil, as it's suitable for all skin types — it's lightweight and blends into the skin seamlessly." The makeup artist recommends Danessa Myricks Beauty Oil and B3 Balm Squalene Oil for the perfect glowy-not-greasy vibe.
Another lightweight oil to look for is moringa, which is the main ingredient in MARA Beauty's Universal Face Oil. "Moringa is super fast-absorbing, sinks into the skin really quickly, and doesn't leave behind a greasy or filmy residue, which is why I absolutely love it before makeup," Allison McNamara, the brand's founder (who got her start as a beauty editor), tells TZR. "It makes my skin feel fresh and hydrated, but isn't so oily that the makeup feels like it's sliding around on the face." She suggests mixing a few drops of the oil with RMS Beauty Living Luminizer for an all-over glow.
How To Use Face Oil Under Makeup
Generally, there are two ways to incorporate a face oil into your makeup routine: One, apply it ahead of foundation or concealer, or two, mix a few drops in with your base product. "With squalene, it penetrates the skin quickly, so you can apply it first and then proceed with your regular routine," Jaikaran says. The same goes for moringa, jojoba, argan, and marula oils.
"The trick is to wait at least a minute between each step to give everything a chance to really sink in," Zoë Foster Blake, the founder of Go-To (and the former beauty editor of Harper's Bazaar Australia), tells TZR. Her brand's face oil, Face Hero, relies on buriti oil, "which is incredibly hydrating and moisturizing and also leaves skin bright and bouncy," she says. "Buriti also has serious anti-inflammatory properties and sinks in fast to create the perfect, radiant canvas for your makeup."
"Another way to play with oils is to mix in with foundations for more hydration or for a lighter coverage," Jaikaran says, while Peña maintains that adding a drop or two to a thicker foundation formula helps skin look like, well, skin. Play with the oil-to-foundation ratio (or oil-to-concealer, if you're into a more natural look) to find what works for you. "I love to add a few drops of my oil into the palm of my hand, add a tiny bit of foundation, and create a beautiful tinted moisturizer," Noto shares.
Ahead, 13 face oils your foundation — and skin — will love.
Shop Face Oils