Here's Why Brides Don't Want Wedding Updos Anymore
Abby Varinsky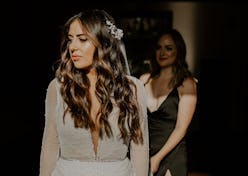 I didn't grow up dreaming about my wedding day, but still, I always had an idea of what a bride should look like. There was the diamond ring, the princess dress, the classic wedding updo. If I had to describe the vibe in one word, it'd be "elegant" or "polished" — so, a far cry from my day-to-day style of concert tees and messy waves. It wasn't until it came time to plan my actual wedding in 2018 that I realized my image of the "ideal bride" had changed quite a bit. When I closed my eyes, I didn't envision this picture-perfect version of myself… I envisioned, well, myself. Especially when it came to my hair (as a Leo, it's kind of my signature).
Many modern brides can relate. "For our wedding, I knew I wanted to feel relaxed and like myself, and to me that meant having hair that was similar to the way I usually wear it," Shannon Davenport, the founder of body care brand Esker based in Dallas, Texas, tells The Zoe Report. Newlywed Abby Varinsky, who works with hair care platform Mane Addicts in Los Angeles, felt the same. "I'm much more comfortable with my hair down — it just fits my face so much better and I wanted to feel like me," she tells TZR. "Well me, but like, much hotter," she adds with a laugh.
According to wedding hairstylists, this reference — an elevated version of the bride's everyday style — is trending across the country. Requests for the kind of classic updos that once dominated the industry (think: formal chignons accented by stiff, strategically-placed spiral curls) have slowed to a trickle, making it all but official: The wedding updo is fading into oblivion.
A renewed focus on wedding photos, no doubt fueled by Instagram, plays a part in the popularity of more low-key looks. "The photos will last forever, and you want to be able to look back on it and feel like your most confident self," Justine Marjan, a celebrity hairstylist who counts Khloé Kardashian and Olivia Culpo as clients, tells The Zoe Report. Marjan recently eloped and wore her hair down in a very '70s Bianca Jagger-inspired blowout. "One friend of mine did a sleek bun for her wedding and she looked drop-dead gorgeous, but she mentioned afterwards that she didn't feel like herself when she looked back at photos, since she normally wears her hair down," Davenport adds. It makes sense: Who wants to flip through their wedding album and not recognize the weirdly formal woman staring back?
In fact, new brides seem to be allergic to the word "formal" in any sense of the word. "We go to a lot of weddings that just have a more casual, relaxed feel than your typical ballroom affair," Varinsky says. "I think bridal styling totally needs to match your venue, so if the vibe of your wedding is rustic or boho, the dress, hair, and makeup tend to match." Amber Lesse, a hair artist in Los Angeles, agrees. "If you look at Bridal 2020, the dresses are loose, flowy, textured, and romantic," she says. "Why throw a structured updo on that?"
To this end, wedding hairstylist Helena van Zandbergen, known in Southern California for her laid-back creations, tells TZR she's noticed an increase in "young brides asking for loose, messy, relaxed, effortless-looking hair." She often gets requests for blowouts, braids, and half-up styles. Does she do any updos these days? "'Stiff' updos have been 'out' for a while, but those are still usually requested by mothers of the bride and groom," she says. "I feel as if this generation of brides wants to appear more authentic."
It's about more than appearing authentic, though: Modern brides want to actually be authentic on the big day. "I am extremely untraditional and it would have been very out of character for my hair to have been any different," Zoey Greco, a spiritual coach based in Arizona and the founder of Merhipsy Healing, tells The Zoe Report. She ended up rocking wavy, waist-length extensions (and a flower crown, natch).
Brides also want to feel confident and empowered — which, honestly, is pretty hard to do if you're worried about molding your hair into a shape it was never meant to hold. "For some women, wearing their natural hair big and curly on their wedding day is not just beautiful, but liberating and empowering," Ngozi Opara, a hair expert based in Washington, D.C. and the founder of Heat Free Hair, tells The Zoe Report. "Because of the current cultural shift we are experiencing, that empowers women of color to embrace their full self, natural hair and all," Opara explains.
The founder has seen an uptick in bridal afros (think Solange Knowles' wedding day look) as well as flowing curls and coils. "A lot of modern brides are using natural extensions, like Heat Free Hair, to create curl-wanded styles that still give them a sense of elegance while looking and feeling like themselves," she says.
This rings true for Melissa Kamba-Boggs, a model and artist in Utah who recently got married. Her wedding 'do featured her everyday coils accented with crown-like hair jewelry. "I wear my hair natural because that's the way it grows," she says. "There's a lot of pressure from society to conform to European styles of beauty, but I think that mindset is beginning to wear off, and Black women are beginning to feel comfortable and confident leaving their hair the way it is." Her advice for finding your wedding style? "Be unapologetically yourself."
There's also practicality to consider. "I planned to dance (read: sweat) pretty aggressively, and I knew an elaborate hairdo wouldn't hold up to the amount of fun I was anticipating," Annika Chaloff, the founder of Nashville-based lingerie brand Hey Mavens!, tells TZR. Chaloff got married in 2014 and at the time, it was almost impossible to find inspiration photos of the hairstyle she wanted on Pinterest. The bridal updo was still going strong, and even though boho braids were trending, that look "still wasn't what I was going for," she says. "So I mostly looked at everyday hairstyle and salon photos."
Chaloff took this idea of "everyday" hair to the next level and decided to skip out on a dedicated wedding stylist — she went to Drybar on her wedding day instead. "I was assigned a random stylist, and I think she was a little shocked that I was getting married that day and didn't have a big huge plan for my hair, much less a consultation with her or anyone prior to that day," Chaloff says. "I was basically like, 'Wash it, blow it dry, and pin it back.'" Her lack-of-a-plan paid off: Not only was the designer's wedding 'do simple and sophisticated, it made for a stress-free night of dancing.
For some modern brides, entrusting their hair to a wedding stylist actually adds more stress to the equation. "I had a stylist who did my makeup for my wedding and she did an amazing job, but I never considered her services for my hair because I'm so picky," Danielle Downes, a blogger who recently got married in New Jersey, tells The Zoe Report. Downes' natural hair is super curly, and over the years, she's learned exactly how to handle it. The thought of putting her hair in someone else's hands day-of was pretty much out of the question — so she did it herself, leaving it down and naturally curly. "I felt totally stress-free because I didn't have to worry about someone else delivering something that I wasn't happy with," she says.
Of course, the be-your-own-stylist thing won't work for everyone, but the point remains: It's not about looking "perfect" on your wedding day. It's about looking like you — and as Downes says, "A stiff updo is so not me."