I Tried Hundreds Of Curl Products Over The Years – & Here Are The Best Ones
Imaxtree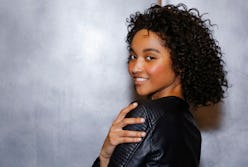 For as long as I can remember, I had a love/hate relationship with my hair. In school, I was the only one with large ponytails that were decked out with ball barrettes and coated with heavily-scented products. Being biracial, I was gifted with thick, coarse, extremely curly hair. While it isn't completely coiled, it isn't bone-straight and frizz-free, either — so I rely on a slew of curly hair products. And I've tried dozens — if not hundreds — of them along my natural hair journey.
My mom has straight hair reminiscent of Madonna in the '80s, and she did the best she could with styling my curls. But it was my great aunt Paulette that mostly handled it for me. She would grab the large container of hair gel, a name I never knew from the local hair shop and an Afro pick, sitting me down in her kitchen chair that somehow turned into a salon stool. She started with combing my hair out which transformed into a huge Afro. After about an hour or so of struggling and screaming bloody murder, I had gorgeous French braids, which she called "plaits," or on special occasion — double ponytails with barrettes. While I hated it at the time, those are now some of my favorite childhood memories.
As I got older and had to fend for myself without Aunt Paulette's styling, not knowing what to do with my hair left me with a lack of creativity. Everyday, I opted for a bun or ponytail, never wearing my hair down for fear of out of an extremely frizzy look that would gain stares.
Then when I started college, I discovered the magic of blowouts at my local Drybar. After about an hour, my frizz was gone, and I was able to keep my hair straight for a week or so until my next wash day. I chose to get blowouts for years up until 2018, when I grew tired of only wearing my hair straight. I longed to regain that relationship with my curls once again... the one that my dear Aunt Paulette helped me develop.
Being in the beauty industry, I have the benefit of playing around with tons of products... so trial and error is inevitable. Through the process, I learned what works for my hair and what doesn't. Nothing for "normal" and "fine" hair is meant for me — I typically choose goods that are catered for "textured" types.
Though the process took years, I finally figured out the routine that enhances my curls when I want to wear them out... and one that helps me get a shiny, salon-worthy blowout. Don't get me wrong, I still the transformative powers of a good silky press, and I adding fun, bendy beach waves in the mix, too. But wearing my hair natural has been freeing, and loving it has been the greatest personal reward. After all these years, my aunt's voice still echoes into my head saying that one day I'll appreciate my hair as is. And now I realize how right she was.
Ahead, see the hair products that keep my curls defined and flawless, and the products that help my hair stay sleek and styled after a blowout.
Natural Hair Routine
Straight Hair Routine