Bianca Jagger Is The Style Icon To Inspire Your 2019 Wardrobe
Ron Galella/WireImage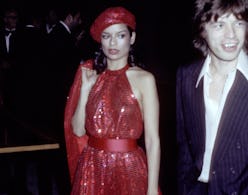 The notion of a style icon is elusive; the title has the power to transform a person into an entire fashion archetype. These icons spawn Instagram fan accounts and are referenced as inspiration for pivotal moments, such as a designer's entire runway collection (remember Marc Jacobs' Edie Sedgwick-inspired Spring/Summer 2013 show?). Ipso facto, style icons are an important part of the fashion cycle. And in 2019, an icon that stands out is Bianca Jagger, whose style expertly marries masculinity and femininity. The Nicaraguan activist and former wife of rocker Mick Jagger is widely considered one of the most important style influences of the 1970s.
A regular at Studio 54, it's little surprise that her ensembles often included flashy embellishments like crimson red sequins and voluminous feathers. But Jagger also had an eye for tailoring. She wore suit separates everywhere, from the airport to her wedding ceremony. (Who can forget the image of her marrying Mick in St. Tropez wearing that glorious white hat and blazer?) She's an empowering icon well worth emulating all these years later.
So why now? Sure, other decades are perhaps garnering more buzz at the moment (ahem, '80s power shoulders and spandex shorts) but Bianca's essence is less about the decade and more about her unique taste. As mentioned, her knack for foregoing traditional gender roles and combining hard and soft silhouettes into her aesthetic is what makes her style worth examining another time around. Thankfully, there are plenty of contemporary brands that feel reminiscent of Bianca; retro, playful, but also polished. They may have earned reputations as of-the-moment It-brands, but they'd fit Bianca's aesthetic way back when too. Ahead, discover these five labels, shop your favorite pieces, and enjoy the iconic snaps of this imitable legend.
The Brand: Staud
The buzzworthy brand that sent its models literally dancing down the runway during New York Fashion Week this past season is a great starting point for the Bianca-obsessed. Staud embraces high volume and strong color, and always wants fashion to be fun. Go here for everything from a '70s-inspired tailored jumpsuit to a dramatic dress in a zesty shade of red.
The Brand: Frame
To give your wardrobe a touch of borrowed-from-the-boys glamour, stop by Frame for a slew of tailored blazers, suede separates, and ruffled blouses. It may be best known as a denim brand, but truthfully it's much more.
The Brand: Cult Gaia
Treat every day like you're going on vacation with a slew of resort-inspired pieces from Cult Gaia. While it first gained acclaim for its Arc bag, the label's vibrant assortment of clothing and accessories give any outfit an instant jolt of energy.
The Brand: Khaite
New York-based label Khaite is the perfect example of traditional masculine and feminine elements teaming up. The collection offers beautifully-constructed staples with unexpected details like a puff sleeve, split hem, or dotted fabric.
The Brand: Gucci
Where better to turn for splashy style infused with the 1970s spirit than Gucci? The Italian house consistently serves up collections with masterful designs that bring a wardrobe to life.