Experts Say You Should Skip This Popular First Date Idea
Dmytro Zinkevych/Shutterstock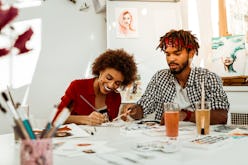 First dates can send you into a roller coaster of emotions: Nerves, excitement, curiosity, a little bit of fear — they're all there. There's enough to stress about before you even begin to think about what exactly you're going to do upon that initial meeting, which is probably why so many settle for a simple coffee or happy hour meet-up. But are those really the best ways to get to know a person? According to relationship experts, some activities may fare better than others. And when it comes to the best and worst first date ideas, the results might just surprise you.
There's a lot that goes into being compatible as a couple, and while much of that can evolve over time, there are signs that show up early on. And by choosing a first date based on how it allows the two of you to communicate, collaborate, and share both mutual and opposing interests, you may be able to better feel each other out. Contrastingly, some situations may set up a more shallow dialogue, thus not getting a good read on either potential long term chemistry or deal-breakers.
That said, if your intention is thoughtfully engaging, having fun, and at the very least getting to know someone on a deeper level — you've got some very interesting options to consider, based on actual scientific evidence and advice from the pros. And ditto for a few you might want to avoid. So, if you're in the process of planning your next first date, consider some of the best and worst ideas ahead instead of referring back to your same-old coffee shop meet-up.
Best Date Ideas
A Concert
"You already know you have the same taste in music if you agree on a concert date," says Dr. Shannon Chavez, Los Angeles-based psychologist and sex therapist. "The music and energy of a concert can release feel-good chemicals in the brain leading to euphoria and feeling relaxed and comfortable making it easier to bond and get to know each other. Plus, dancing and singing to your favorite music is vulnerable and exciting all at once."
Escape Room
"I think escape rooms are a really cool first date idea," Rachel Thomasian, Executive Director at Playa Vista Counseling and break-up specialist. "When solving a new problem together, you'll have a unique chance to get to learn how this person tackles challenges and whether or not you two can click and work as a team."
Hike With A View
"Hikes are a great way to get some exercise and have a nice talk," Dr. Chavez explains. "A hike will release neurotransmitters that can reduce anxiety and boost brain activity so you are able to concentrate and pay attention to your date."
Comedy Show
"Another date idea that has science working in your favor is going to a comedy show," shares Thomasian. "Laughing releases chemicals that cause us to fall for someone. Also, if you're laughing, you're definitely having fun!"
Art Class
"You get your hands dirty, show off your artistic side, and get to be creative," explains Dr. Chavez. "You get to see how your date uses their hands. Plus, you will have your art work to remember your first date and be a memory you will always be able to share."
Amusement Park/Haunted House
"Believe it or not doing something scary — think horror film, rollercoasters, or Halloween maze — can be a bonding activity unlike any other," offers Thomasian. "Fear releases the same endorphins as love and feeling like you survived something together brings people together."
Worst Date Ideas
Spin Class
As much as it could be tempting over your mutual love of cardio, Dr. Chavez advises against hitting up an indoor cycling class as your very first meet-up — for good reason. "Spin classes are busy, loud, and dark," she explains. "You won't be able to make eye contact and really get to know each other."
A Movie
While heading to the movies is a classic date idea, you might want to skip it for the initial getting-to-know-you phase. "I'd stay away from experiences where you don't interact much at all," says Thomasian, "You're doing the same thing at the same time but there's no interaction there at all. You probably won't leave knowing much about the other person."
Dinner
"Yes, I know it's a popular date but it's also a big commitment," Dr. Chavez advises. "If you find within the first few minutes that you aren't interested, you are committed for the next hour or so! Restaurants are also busy and not as private for a good conversation to get to know each other."
Work Event
"It might feel comfortable for you to be around co-workers but uncomfortable for a date to have to talk to a bunch of strangers," explains Dr. Chavez. "Plus, a co-worker might share an embarrassing story."
Bar
Dr. Chavez also recommends thinking twice before opting for a first outing that's centered around alcohol. "I never recommend drinking on a first date," she says. "Even though people feel more relaxed or comfortable after a few drinks, it can change the dynamic and energy during the date. Drinking can lead to other behaviors and poor judgment."