Opposites Attract, But Do They Stay Together? A Relationship Expert Sounds Off
Dimitrios Kambouris/Getty Images Entertainment/Getty Images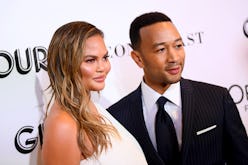 It's an age-old question when it comes to relationships. Do opposites attract? Whether or not you've found yourself in this situation or you've watched it play out in the media — Miley Cyrus and Liam Hemsworth or Chrissy Teigen and John Legend, for example — you may already have your opinions regarding the lasting power (or lack thereof) for couples who seem to have wildly different tastes, personalities, or values. But what do the professionals have to say about the subject? Specifically, even if opposites do attract, can they stay together for the long haul?
As a Los Angeles-based marriage and family therapist, Shana B. Diskant deals with relationship issues on a regular basis, so she knows how common it is for couples to be experiencing conflict due to their differences. That said, the concept of being romantically involved with your so-called opposite shouldn't in and of itself signal a problem. Every partnership is different, and sometimes your differences can actually be a major benefit, according to Diskant. "Opposites bring a perspective and world view that you may not be exposed to otherwise," she explains. "Imagine you love going on relaxing beach vacations and spending the whole time reading a book by the pool while your partner is all about adventure and staying super active. You might have been perfectly content and happy finishing three novels, but by being sweet-talked into zip-lining you got a thrill you never would have had otherwise."
In the best examples of such relationships, being romantically involved with someone with extremely differing thoughts and behaviors can also make you more empathetic, Diskant explains. For example, you may find yourself opening up a dialogue about why you feel the way you do about a particular thing — and vice versa — which allows you to understand each other on a deeper level. "By introducing these very opposite world views and underlying reasons for their behavior, and then finding that the love can still exist, you may become more empathic of others in your life that do things differently," she adds.
That said, when communication isn't so smooth, opposites may find it extremely difficult to navigate through their differences — particularly when they're deal breakers. "Finances, parenting, religion, and extended family involvement tend to be the hardest obstacles to overcome," shares Diskant. As your best line of defense against these issues, follow her advice and discuss what is and isn't negotiable — and do so early on in the relationship. "Recognize what is most important to you and don't waiver on those core values," she says.
On the flip side, Diskant argues that looking for a mate that you have everything in common with is not only unrealistic but probably not very healthy. "Healthy relationships have a good amount of autonomy and interdependence," she explains. "Even if you both like the same things, you need to still develop your own areas of personal growth apart from you partner."
No matter where your relationship falls on the scale, Diskant emphasizes that for any couple to have lasting power, the two of you need to develop strong conflict resolution skills. And if you do have significant differences (which you've either accepted or predetermined are up for negotiation), try to focus on what each of you is bringing o the table. "The real goal is to understand how our differences can be accepted and utilized," she says. "One person is the better cook and one person is better at dishes? Embrace those differences rather than pushing one person to take a cooking class or the other to learn the best way to scrub a pot. Try to learn from each other rather than mold into the 'perfect' fit."