The $15 Bottle That'll Help You Celebrate National Rosé Day Right
@saywhenwine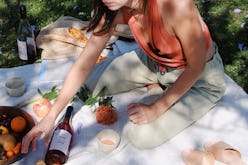 Not that you needed an excuse, but this Saturday is National Rosé Day, so if you've yet to break out a bottle for the summer season, let this be your kickoff. And if that's the case, you'll need to stock up — which thankfully doesn't have to mean spending a small fortune. In fact, you can easily find some of the best rosé wines under $30.
Pink wine hit peak trend a few years ago, but due to its lovely hue and drinkability it doesn't seem to be going anywhere. But don't let the fact that it's abuzz fool you: wine aficionados and experts alike know that rosé isn't just a great prop for a summery Instagram pic — it's just as respectable as other types of wine. That said, as is the case with all vino, not every bottle is created equally. Rosé can range from light and dry to full and fruity. And you can find it in a range of prices as well.
The good news is, some of the best bottles of the stuff — including natural and sustainable wine options — can be found for a steal. To prove the point, find eight bottles ahead that are perfect for seasonal sipping (including patio entertaining and fancy picnics) and will cost you just $30 or less. In fact, there's so good, you'll want to drink them long after National Rosé Day comes and goes.
Los Angeles-based winemakers Say When created this beautifully blush rosé with Mourvèdre grapes from Paso Robles, which make for a sturdy wine (thanks to 48 skin contact) with strawberry and prickly pear notes.
Any list of great rosé wouldn't be complete with out a celebration-worthy bottle of bubbly. Enter this sparkler from Oregon-based Union Wine Company, which offers delicate bubbles and a creamy mouth feel with wild strawberry, watermelon, and tart cherry flavors. And honestly, it's tough to beat the value.
If you're into a medium-bodied rosé, try this Central Coast option, which has notes of apricot, citrus, and white flowers.
This biodynamic wine from Santa Barbara is rich and full fruit flavors like strawberry and melon, but it's also perfectly balanced with florals like jasmine and orange blossom.
This blend of Napa Valley Cabernet Franc, Merlot, and Petit Verdot grapes offers juicy pink grapefruit and watermelon rind flavors.
Stuck on French or Californian rosé? Try something new for a change and grab a bottle of this Sicilian wine made from 100 percent Nerello Mascalese grapes. It's got a crisp minerality (perfect for summer drinking) with notes of spring flowers and summer fruit.
For classic Provence rosé, with a bright and herbaceous palette, give this tried-and-true bottle a whirl. It's a guaranteed crowd pleaser.
Down to try something new and join the natural wine movement? For less than $20, let this rosé be your gateway. This organic, unfiltered, and unfined wine from Fitou, France is comprised of 60 percent Syrah and 40 percent Carignan, and it offers the dry finish and drinkability of a Provence rosé.