Yes, You've Heard Of Sustainable Clothing, But Have You Heard Of Sustainable Wine?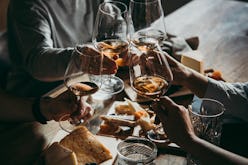 Sustainability seems to be top of mind for many these days, whether that means reevaluating what clothing labels you're shopping for or what form of transportation you take to work. But there are probably a ton of ways you haven't even thought of yet that can help you reduce your carbon footprint — including what you're putting in your wine glass. Of late, more and more sustainable wine brands are emerging and offering you vino that's not just great for sipping, but also great for the earth, too.
So what exactly makes a wine sustainable? Well, it's not always so cut-and-dry. "Technically, the US government doesn't regulate 'sustainable' as it does 'organic,' so this could mean a lot of things in terms of winemaking," says Victoria James, sommelier, author, and beverage director/partner at Cote in New York City. "However, it usually refers to those who are practicing in an ecologically/socially responsible way."
According to James, those looking for more eco-friendly wine options can consider a few factors: organic, biodynamic, and (generally) sustainable. "Organic is focused on the purity of ingredients, little synthetic materials added, biodynamic is about overall holistic agricultural health and follows the cycles of the moon, and sustainable is all about mitigating and reducing waste in winemaking," she explains. "All three practices are a step forward in social and environmentally friendly winemaking and should be supported by consumers."
And while James mentions that several countries and regions outside the US have regulations in place to unsure sustainable practices, there are also domestic wineries doing their part as well — including California's wine mecca, Sonoma. "At Sonoma County Winegrowers, we are all about the wine-growing practices," explains Amy Landolt, Director of Marketing & Public Relations for Sonoma County Winegrape Commission. "So to use our label, a wine must have been made using a minimum of 85 percent certified sustainable wine grapes from Sonoma County. Over 90 percent of our vineyards are certified sustainable, so more and more wineries are opting to use our label to show wine lovers that the wine they are enjoying was made using sustainable growing practices."
Whether or not you want to buy locally or go for an imported wine this season, James has some simple advice that will help anyone trying to shop the most sustainable options. "Befriend your local wine shop and sommelier — ask them for these wines," she says. Until then, as a jumping off point, find a few winemakers ahead that are committed to various levels of eco-friendly practices. Then sit back, sip, and enjoy.
Ferrari-Carano
"This winery, located in Sonoma County's Dry Creek Valley has been practicing sustainable wine-growing practices for years and officially had all of its vineyards certified sustainable in 2015 by the California Sustainable Winegrowing Alliance," says Landolt. "Ferrari-Carano was the first winery to release wines bearing the 'Sonoma County Sustainably Farmed Grapes' label."
Dutton Estate
"The Duttons are one of the oldest wine-growing families in Sonoma County and they have committed to sustainability by farming all of their vineyards sustainably," explains Landolt. "They are also using the sustainable wine-growing label on many of their new-release wines and some have the augmented reality capability."
Silver Oak
"Silver Oak just won the California Green Medal Award for Leadership in Sustainability," says Landolt. "The winery puts so much care and thought into their growing practices, but also their facilities, opening a LEED-certified winery facility in Alexander Valley just last year."
Domaine Ostertag
For a biodynamic bottle, James suggests looking to the French region of Alsace, which is known for its sustainable practices. "A lot of Alsatian producers practice biodynamics or natural winemaking since the environment is so friendly to this — much sunnier and drier than other places in France," she says. Specifically, she loves wines from André Ostertag's label. The winemaker is committed to environmental causes which extends to how he cultivates the "terroir" or soil, versus simply focusing on growing a specific grape.
Catherine & Pierre Breton
"Beaujolais and the Loire Valley are a hotbed for [biodynamic] practices," James says, specifically pointing to the efforts of the duo behind Domaine Breton, who have been have been leading the charge in organic winemaking since the early 1990s.