This $40 Picnic Basket Is A Must-Have For Summer
Ekaterina Iatcenko/Shutterstock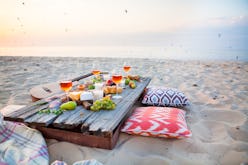 There may be a few more weeks before some parts of the world start to get the kind of weather that's conducive to outdoor entertaining — but that won't stop you from starting to plan for it. One of the greatest things about late spring and summer days is the excuse to spend time al fresco, and that includes creating the perfect picnic. But if the photogenic spreads you've been lusting after in your social media feeds seem a little inaccessible on your budget — or you just don't know where to start — don't stress. There are plenty of chic picnic essentials under $50 that will have you whipping your own Instagram-worthy experience on a dime with ease.
When planning a picnic there are a few key things to consider, one of the most important being what you'll be eating. And while it might look great in photos to have five-star quality dishes to dine on, it's probably not all that practical. Instead, look to recipes that you can prep in advance with minimal ingredients and that are great to craze on, like a simple watermelon salad or mini sandwiches. Better yet, create your own cheese plate with an assortment of pre-sliced meats and cheeses, plus some nuts and dried fruit to snack on. It looks great, and there's no cooking required.
How you'll serve your food is another thing to consider. Though it's temping to grab no-mess, disposable plates, napkins, and cups, it's not very sustainable. For a minimal waste solution, try bamboo cutlery and melamine or enamelware plates and platters that are lightweight and can be reused. And if you'll be drinking anything besides canned wine, you'll need something to sip out of. Try copper cups which are not only reusable, but have an antibacterial property as well. And don't forget an insulated wine tote for booze that needs to stay cool or a flask if you don't want to lug around a whole bottle.
As far as making it comfortable, shop the patio sections of your favorite home goods retailers for weatherproof cushions it sit on, or even fold-up chairs if you want to go the extra mile (which is especially nice for outdoor concerts or movie screenings). And while any soft blanket will do for what you spread everything out on, it might be most useful to get one made of spill-proof fabric, and one that comes with its own caddy for easy transporting.
Then of course you'll need something to carry it all. While there are plenty of great-looking baskets to shop, you'll want to make sure that the one you invest in is sturdy enough to carry the rest of your essentials. Or kill several birds with one stone by finding one that comes with the plates, glassware, and cutlery — plus food storage — inside to make things as simple as possible.
The best news of all is that you can find stylish versions of all the aforementioned essentials even if you're on a budget. To prove the point, the 10 picnic-perfect pieces ahead aren't just incredibly chic, they're also affordable. In fact, at $50 or less each, they'll cost you less than you probably paid for your last blowout.