The $11 Wine That'll Help You Kick Off Spring Right
Oleksandra Naumenko/Shutterstock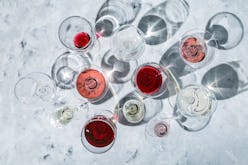 It's officially spring, which means that soon enough (if not already) you'll be enjoying more time outside — and that may include having dinners al fresco or just sipping a glass of wine on your patio while you watch the sunset. And although it's always a safe bet to stick with your favorite bottles year round, the new season also presents a great opportunity to change up what you're sipping. And with so many great spring wines under $20, trying something new doesn't have to mean spending a ton.
For the adventurous wine drinker, switching it up can be a fun way to find out about new flavor profiles and discover things you might not have otherwise known you like. And with a new season, there are some that just tend to mesh better with the change of climate, type of activities you're doing, and food you'll be eating. Specifically, you might notice that light-bodied reds, acidic white wines, rosé, and dry bubbly tastes especially great this time of year.
And if you're looking to try out a few fresh bottles for your next dinner party, it's also nice to know that some of the best options out there are super affordable. Ahead, find eight wines to (including one for those who have been curious about the natural trend) that will give you the spring vibes you're craving — and they're all under $20. Cheers to that.
As if you needed an excuse to break out the bubbly, the start of a new (and warmer) season is as good as any. This light-bodied, eco-friendly Chardonnay/Chenin Blanc blend from California is made in the French-style, meaning you can expect it to be dry with fine bubbles.
Provence rosé isn't just the perfect drink for summer, so why not pour yourself a glass tonight? This dry wine offers hints of strawberry, white flowers, and vanilla — so basically it's spring in a bottle.
Open to sipping a natural (as in no additives, unfiltered, and unfined) style? This Nero d'Avolo from an off-the-grid winery, biodynamic Italian winery is light, bright, and has low tannins so it's easy to drink all season long.
The best part about this bright and tropical California Sauvignon Blanc? It's readily available at a ton of major grocery stores as well as online. And at under $11, the price is hard to beat.
A Spanish cava is a great option for those who love to drink a French champagne but don't want to spend a ton. This one, particularly, is fruity and round and will pair well with a cheese and charcuterie board at your next soiree.
As opposed to the aforementioned Provence style, this Pinot Noir rosé, has a heftier fruit flavor that includes notes of guava, loquat, strawberry but a high acid for crispness that makes it perfect for warmer weather.
If it's a fruit-forward red wine you crave, this light-bodied and slightly sweet California red will be right up your alley.
This medium-bodied, juicy Austrian wine is perfect for pairing with with lighter dishes like seafood and poultry, in case you need something to bring to those spring dinner parties.