These Are The Drybar Styling Tools That Are Worth The Investment, According To Reviewers
@thedrybar on Instagram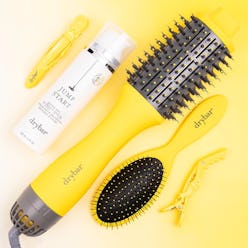 Let's face it, $35-a-pop isn't that cheap for a blowout when you're getting one on a weekly or (heaven forbid) daily basis. Thankfully, there's an infinite number of online tutorials and snazzy hair gadgets out there that can turn you into a do-it-at-home hair expert (YouTube here you come). Drybar has some of the best styling tools on the market, from straightening brushes to curling wands.
These days, you don't need to go to beauty school to achieve a salon-quality blowout, so long as you have the right equipment at home. And what might that be, you ask? Well, not a $500 hairdryer, per se.
Everything in Drybar's range costs less than $200 and it's pretty certain to make you look like you just left the salon. Just a couple months after launching its Double Shot Blow-Dryer Brush, for instance, Sephora reviewers are eating it up. One reviewer even called it "the most amazing product on the hair styling tool market."
Of its 147 reviews, 107 of them have five stars. People love the way it adds volume to fine hair and makes it dry worlds faster than the average hairdryer. Ahead, the Double Shot Blow-Dryer Brush and other Drybar styling tools that reviewers love.