These Are Hands Down The Best Curling Irons At Sephora, According To Reviewers
Pixelformula/Sipa/Shutterstock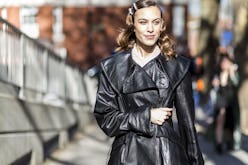 If you're not a curling iron expert, it can kind of seem like they're all basically the same. Heats up? Check. Round barrel? Yup. But as anyone who's bought a not-so-great one can tell you, there are plenty of other features of curling irons that separate the basic (and, let's be real, bad) from the truly effective and easy-to-use stylers. Finding those great ones, however, can present a challenge. That's where reviews come in. And, as users have attested, the best curling irons at Sephora are truly worth the extra money and research to find a hair tool that'll give you the curls you dream of.
And no, these cult-favorite curlers don't all do the same thing. From Amika's High Tide Deep Waver ($120), which creates deep, beachy waves, to Drybar's $165 The Wrap Party Styling Wand, which gives the perfect blowout curls, there are beloved products of all kinds to choose from so you can pick the right one for your desired results.
So, all you have to do is continue scrolling below for some of the top-rated curling irons from Sephora. The best — according to their rave reviews — are ahead.