Drybar's Latest Launch Wants To Bring The Glass-Skin Trend To Your Hair
Instagram/Drybar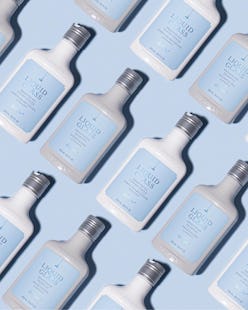 At this point, you're probably familiar with the popularized K-beauty term "glass skin" (similar to the "dewy" and "dumpling" skin trends), which focuses on a glossy, luminous effect. But, even if you're not, now is as good as time as any to get acquainted — because salon-turned-haircare brand Drybar's new Liquid Glass Smoothing Shampoo and Smoothing Conditioner is bringing the glass-like obsession from your face to your strands, too.
No matter what type of hair you have, the products, which launched Jan. 7, work on all kinds, have three frizz-fighting, dullness-defeating ingredients, and are paraben, sulfate, and phthalate free. What exactly are those three key ingredients? The shampoo and conditioner, $26 each, blend together vegan keratin, neroli oil, and murumuru butter into a powerful hair cocktail.
A more intricate breakdown of the ingredients reveals why they work so well to make your hair look akin to glass. It starts with the vegan keratin, a protein that locks in moisture and smooths the hair cuticle, while neroli oil helps smooth hair and provide high shine. Rounding out the list is the murumuru butter, which manages hair by softening it without adding extra weight. And, to give you even more reason to try them, the products feature Drybar's Blanc scent, which is a slightly sweet mixture with notes like coconut, amber, and vanilla.
When it comes to application, the routine doesn't stray too far from standard shampoos and conditioners. However, it is worth noting that a press release from the brand recommends applying the shampoo from "roots to ends," while the conditioner should solely be used "from mid-shaft to ends." (That technique helps keep hair nourished, but not overworked).
For those truly dedicated to having glass hair, though, Drybar offers two hairbrushes created to taking your shine to the next level: The Double Shot, a blow dryer brush ($150), and The Lemon Bar, a paddle brush ($32). Along with those tools, you can find Liquid Glass Smoothing Shampoo and Smoothing Conditioner on Drybar's website, on sephora.com, or keep scrolling to get a closer look at the new drops right now.