This One Nail Product Will *Completely* Change Your At-Home Manis
Olive & June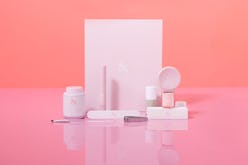 Does anyone else remember those generic, stainless steel at-home manicure kits that were popular in the late '90s and early aughts? I probably received one of those — packaged in a silver or black Caboodle-like carrying case — for every birthday and major holiday from the ages of nine to 13, from one well-meaning relative or another. Little did they know I already had a stash of nail sets under my bed, mostly unused… because they all kind of sucked. After one too many low quality cuticle trimmers (too dull to do anything) and teeny-tiny nail clippers (no match for my toenails), I gave up on the whole at-home manicure thing. Until now, that is.
On Apr. 18, Olive & June launched The Studio Box, which is basically an at-home manicure kit for grown-ups. The 10-piece set features everything you need to get flawless nails from the comfort of your own couch; from the basics (a nail file) to the extra-extras (a "nailfie" station). "I had always loved having my nails done, but I never knew how to really do them myself," Sarah Gibson Tuttle, the CEO and founder of Olive & June, tells The Zoe Report. "I spent 2018 learning what it takes to really do an at-home mani and make it look amazing." Those learnings are all packed into The Studio Box, where they can be passed onto you.
"The biggest problem was how hard it was to paint with my non-dominant hand, hence The Poppy, our new universal polish bottle handle," Gibson Tuttle says. (I've used The Poppy myself to keep my hands steady when applying polish; it's genius.) "Along with that, I found that it was really tricky to fix just one nail without messing the other ones up — so we developed our Nail Polish Remover Pot, no cotton balls or messy stuff required."
The Box includes both of those, plus all the usual suspects: a nail shaper, nail clippers, an eyeliner-like brush for precise clean up around the edges, a neutral polish, and a top coat. But it also offers innovative approaches to oft-overlooked mani problems, like ragged cuticles.
"Dry cuticles are a constant toughie; we all know cuticle oil helps, but we don't use it because the oils can be greasy, the applicators aren't travel-friendly, and other little annoying things like that," Gibson Tuttle explains. "We created a fast-absorbing serum in a purse-friendly pen with a soft tip so that you can take it everywhere with you and hopefully use it all the time without worrying about it getting everywhere."
The formula is truly next-level, as it's modeled after under-eye serum. "Both are areas of thin skin that need layer upon layer of hydration," the founder explains. And just like an eye serum, Olive & June's Cuticle Serum only requires a single daily application — after that, moisture stays locked and loaded thanks to ingredients like hydrating cactus flower extract. Gibson Tuttle claims the product has changed her nail game, saying, "When your cuticles are healthy and fresh, your mani looks its very best."
The pièce de résistance? A full-fledged #nailfie station, made up of an aesthetically pleasing placemat and a built-in cell phone shelf, "perfect for creating content and easily watch nail art tutorials," the brand said in a press release. Basically, The Studio Box is everything the at-home mani sets of my youth were not.
Celebrity nail artists are on board with the contents of Olive & June's Studio Box, too. "A high-quality nail file, buffer, cuticle nipper and pusher, and nail clipper are all you need," Mazz Hanna, who works with Julia Roberts and Halsey, tells The Zoe Report. "Cuticle care is another important step for making your manicure look professional." She loves the Blue Cross Cuticle Remover to prep the area, and her own Mazz Hanna Amethyst Cuticle Oil to care for cuticles afterward.
Want to give your personal polish time a spa-level upgrade? Don't skip the scrub and lotion steps. "Using a hand scrub will remove any dead skin and leave your hands and cuticles feeling soft," Betina Goldstein, an editorial manicurist whose work has appeared in Vogue and Porter, tells TZR. "My favorite is Herbivore Botanicals Coco-Rose Body Polish." Post-mani, she recommends moisturizing with an SPF-infused hand cream. "I like to mix in a drop or two of rosehip oil," Goldstein says. "It adds an extra layer of hydration and gives your hands a wonderful glow."
Ahead, the at-home manicure kits the pros swear by — and a few luxe extras.
We only include products that have been independently selected by The Zoe Report's editorial team. However, we may receive a portion of sales if you purchase a product through a link in this article.
Shop At-Home Manicure Sets