Olive & June Just Launched The Perfect Nude Nail Polishes For Every Skin Tone
Olive & June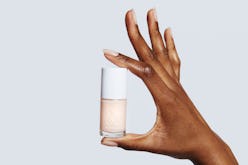 "Unless you have a some sort of secret power, it's incredibly hard to paint your own nails with your non-dominant hand," Sarah Gibson Tuttle, the founder and CEO of Los Angeles-based nail empire Olive & June, tells The Zoe Report. "But for some reason. we all continue to buy nail polish — even if we let it collect dust in our bathroom." She's not wrong. As a professional beauty enthusiast, I have an entire cabinet filled with nearly-full bottles of nail polish and yet, the last time I painted my own nails was… well, yesterday, when I experimented with Olive & June nail polish and the brand's new, game-changing mani accessory. But before that? Probably over a year.
"We polled women around the world on what was causing them to buy bottles of polish, but not really use them more than a few times per year," Gibson Tuttle says. "The number one complaint was how hard it was to paint with your non-dominant hand." A light bulb moment ensued and The Poppy, the star of Olive & June's Mar. 14 release, was born. "The Poppy is a universal polish bottle handle that goes on top of any polish for a comfy grip, more control, and even, steady strokes so it's easier to paint your own nails using both your dominant and non-dominant hands," the founder explains.
The rubber tool is even shaped a little like a light bulb: The narrow base features an opening that expands to fit over the cap of pretty much every polish ever made, while the rounded, squishy head provides a no-slip grip and allows you to rest the side of your hand on an even surface while painting. "While it takes about seven to eight times to get really comfortable painting with a traditional polish bottle handle, with The Poppy, you feel comfortable on your first try," Gibson Tuttle tells TZR. It's true; I have nary an artistic bone in my body, but I felt like the Michelangelo of at-home manis with The Poppy in hand.
That's not the only way Olive & June aims to change the personal polish industry. "We also really focused on creating colors that are forgiving to paint with," Gibson Tuttle says of the subtle, neutral shades in the company's first-ever nail polish collection — in other words, it's impossible to mess these up. Out of the six pastel-inspired shades, three are nudes — Eva, a sheer peachy-pink; Mandy, a "slightly toasted" neutral; and Caroline, a cool, creamy beige — so there's something here to flatter every skin tone.
Rounding out the collection are pale pink (known as Geri), lavender (Tara), and light blue (Barrett); understated pastels that are perfect for the season ahead. "These six shades really reflect the neutral manis that our in-salon and at-home clients both love," Gibson Tuttle tells TZR. "We curated a collection that fills holes in the market — colors that are not found on our wall of 500+ bottles of polish." Consider this fair warning that you're going to want every single one.
As the bottles note, the shades are "dreamt up in LA" (where Olive & June's salons are located), but made in Korea. "Nail polish in the United States is manufactured on the east coast," the founder explains. "When we were researching our options, we realized that many, if not all, of the US polish companies were sourcing their polish from the same place — that meant that there was very little deviation between formulas." Hoping to differentiate its polishes, Olive & June looked to global manufacturers and found a provider in Korea "that matched our desire to constantly explore innovation." The difference is evident from the first swipe; these polishes are thicker and more full-coverage than many other formulas on the market — a single coat is really all you need.
Between The Poppy, the wearable shade range, and the innovative formulation, Olive & June's entry into the polish space just might convince you to skip the salon, according to Gibson Tuttle. "We wanted to make it easier to paint your own nails, so that it can become a real part of people's personal beauty routine again."
Shop The New Collection