Oribe's Luxe New Hand Wash Is Going To Your Make Decorative Soap Holders A Thing Of The Past
Oribe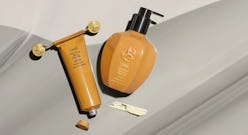 Between the cold weather and vigilant hand washing (hello, flu season), this time of year is notorious for leaving you with dry, cracked hands. If you've already cycled through various products and have seen little improvement, you may be at the point of feeling defeated. But before you throw in the towel, say hello to Oribe's Revitalizing Hand Wash, a new cleanser that's as luxe as it is helpful.
On Feb. 4, the brand known for providing coveted hair-care products launched not one, but two new skin-saving hand solutions. Up first is the Côte d'Azur Revitalizing Hand Wash for $36, a product that comes in a glistening gold bottle with a pump spout that's pretty enough to let you put your old soap dispenser away for good.
It's not all looks, though. The rich cleanser works to prevent dryness and nourish skin using a blend of sweet almond, meadow foam, and starflower oils (among other ingredients). Meanwhile, components such as grape seed oil (which is rich in vitamin E) and jasmine oil will help to soften and smooth rough hands. Described as smelling of Mediterranean citrus and white butterfly jasmine, this hand wash is all luxury.
Next, take a look at the Côte d'Azur Refining Hand Scrub. Ringing in for $52, the scrub uses a combination of pumice stone and kaolin clay to exfoliate and smooth, while a family of natural oils aids in hydrating your hands. And, like the hand wash, it's formulated without parabens, petrolatum, or mineral oil. Additionally, both products are listed as being vegan, cruelty-free, and gluten-free.
The scrub will leave your hands primed and ready for moisture absorption, so while you're shopping the two new products, snag the already existing Cote d'Azur Nourishing Hand Crème, which is $52 for 3.4 fl.oz. Using oils and shea butter, the moisturizer will nourish your skin from wrist to finger tip.
The delicate skin on your hands takes on a lot during the day, so treat the hardworking duo to the new products from Oribe. Continue on to start your shopping below.