The One Thing You Need To Upgrade Your Home For Summer
Floral Deco/Shutterstock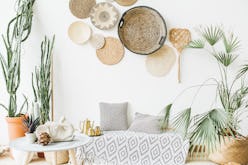 There are a few quintessential changes that go along with moving from spring to summer: losing a few layers of clothing, lightening up the kinds of food you're eating, and of course spending more time outside. But you can also bring the feeling of the new season indoors with the help of the biggest summer home decor trends.
It may seem like a luxury to switch up your decor simply based on changes in temperature, but a little can go a long way in terms of creating at atmosphere conducive to not only longer and hotter days, but to the spirit of the season as well. By getting rid of former trends (like monochromatic styling and busy bathroom designs), and making a few simple tweaks, you can create a space that's cool, current, and most of all worthy of a staycation.
Trends like fringe and outdoor-inspired decor are two popular ways to bring summer into your home, but according to Emilie Baltorinic-Navarro, Living Spaces's interior designer, there's a few more you might not yet have considered — and they don't have to cost you a fortune either. Ahead, find her top tips for seasonal styles to incorporate now.
Staycation Vibes
One totally effective tip Baltorinic-Navarro offers is getting your inspiration from your favorite vacation spot. "Create a staycation vibe in your home or outdoor space inspired by your favorite place to spend the summer," she suggests. "Your home decor can reflect your favorite spot to soak up the sun by bringing in organic-inspired elements from those places into your home through table top accessories, throw pillows, other textiles or plants from that region."
Oversized Plants In Ceramic Planters
The addition of indoor plants seems to give any space an immediately more tropical feel, plus they're actually proven to be good for your health. "Adding oversized plants to a room brings the great-outdoors in, creates a lush ambiance and benefits the overall energy of your home by detoxing the air," says Baltorinic-Navarro. "The ceramic pots they live in can bring in that pop of color your space needs and an organic handmade touch."
Organic Geometric Shaped Motifs
"We're seeing [organic geometric shapes] everywhere with modern takes on rainbows, half circles, arches, swirls, and zig-zags," says Baltorinic-Navarro. "Whether you're looking to add a dash of texture by hand painting the motif on an accent wall or buying wall art from a local artist, [these] motifs are here to stay."
Black And White Color Schemes With Pops Of Color
Seasonal change-ups are super easy when you're working with a mostly neutral palette with pops of color, according to Baltorinic-Navarro. And summer brings to mind certain hues that feel especially fresh. "Rusty orange, mustard yellow, blush, or emerald green are bright and bold and perfect for bringing summertime color to your space," she explains.
Ceiling Fans
Though they've gotten a bad rap with many design experts in the past, ceiling fans are back — but with a stylish and tech-savvy twist. "Ceiling fans are making a comeback with a clean-cut modern makeover," explains Baltorinic-Navarro. "The designs have been modified to fit the modern home and are now made with high-tech features which will cool down your room while adding to the aesthetic of your space."