French Connection Is Betting Big On This Home Decor Trend For 2019 (& It's So Easy To Style)
French Connection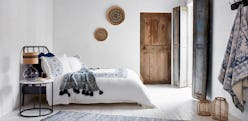 When it comes to seasonal trends, the simple truth is that you're a whole lot more likely to adopt them if they're easy to integrate into your current lifestyle. Whether you're talking fashion, beauty, or home design, it's all about the singling out the simple but impactful swaps you can make each season to keep things fresh. And in your spaces this summer, it's all about fringe. If you're ready to get in on the incredibly easy (but seriously statement-making) style, head right over to French Connection where the fringe home decor trend has officially taken over.
Fans of French Connection's previous home collection are in for some great news, because the brand is back at it for Spring and Summer 2019 with more high-style yet super affordable home accessories to spruce up your spaces for the current seasons. The latest collection, which launched on French Connection's website and in its New York City store on May 3, is brimming with of-the-moment buys and points to one trend in particular that you'll want to infuse into your home: all things textural, including tons of fringe.
"Texture and surface interest are key to French Connection's range of home accessories: pillows, rugs, and throws alike," French Connection's Head of Homeware Catharine Denham tells The Zoe Report. "Whether said with subtlety or in statement fashion, my designs are much inspired by local craft techniques as well as artisan traditions worldwide — often with a nod to contemporary trends."
And that's exactly what you'll find when shopping these stylish new pieces. The collection features an ideal blend of global design and a modern aesthetic, so no single piece feels too trendy or overly traditional. The common thread throughout? A recent fashion crossover, fringe.
The textural design feature is placed on front of throw pillows, like the Mateo Tassel Pillow, $50 and the Brooklyn Accent Pillow, $40, or along the edge of woven macrame pieces like the Avery Macrame Pillow, $40. It also laces the edges of traditionally-inspired, contemporary-colored Moroccan rugs like the Eyota Moroccan Accent Rug and Diamond Moroccan Rug, both $40. The instant effect is added depth and interest wherever the pieces are placed, whether in an entryway or the bedroom.
And speaking of the bedroom, French Connection's new collection even works fringe into its latest bedding launches. The $150 Maestro Three Piece Queen Duvet Set, for one, is rendered in crisp white cotton and looks clean and sleek, despite a lashing of soft, statement-making fringe that runs across the duvet cover and shams. It's a simple way to keep your space looking luxurious, but not overly opulent. Plus, thanks to the fresh white hue, the set can fit in with your existing color palette with ease.
Ready to try the trend for yourself? Keep scrolling to stock up on the fresh fringed pieces below, and head over to French Connection's site to see the rest of the new season's arrivals.