Anthropologie's New Home Collection Is The Prettiest Way To Liven Up Your Outdoor Space
Anthropologie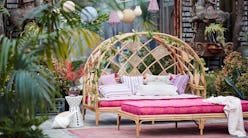 Depending on where you live, right now might not be quite the time to start firing up the grill and planning your outdoor parties. However, in just a few more weeks, the temperatures will begin to be warm enough to where you'll want to spend your free time outside — and after another brutal winter, who wouldn't? In which case, creating the perfect environment for both you and any guests you might have is essential, and Anthropologie's 2019 summer home collection makes curating the right atmosphere easy.
Whether you're looking to update the patio furniture or you simply need some additional décor to give your space a new look, Anthropologie has whimsical and colorful pieces that feel elegant, playful, and seriously chic. From European-inspired bistro chairs and simple planters to tropical serving plates and rugs, the retailer has pieces for any type of aesthetic you might want this season. Plus, if you want to give the inside of your home an update too, there are plenty of pieces that'll look equally as good indoors to put you in the mood for your next summer getaway.
For those who dream of sipping their coffee or tea while people watching outside of a French café, get yourself a Woven Dots Bistro Chair, $248 each. Want even more rattan for your back yard? This Wrapped Rattan Indoor/Outdoor Bar Cart will evoke travel vibes like no other, and is available for $748.
However, if you're hoping to completely change the look of a room or space with one piece, add a rug such as this Imani Indoor/Outdoor Rug, which is available for as little as $58 for the smallest option, as a simple trick. Then you can place the Hydra Dining Table, $1,398, on top of it for a warm, rustic appeal.
If it's smaller pieces you're looking for to decorate your home in a subtler way, you can't go wrong with this Speckled Ceramic Table Planter, $25. And for when you're hosting intimate get togethers for your loved ones, the Tempeste Serving Bowl, which has water-inspired swirls painted onto it, will be the perfect backdrop for anything. Be sure to add this Rivka Carafé to the table for an elegant, Morroccan-inspired touch to your setting, too.
If you're eager to get started on putting together your summer soirées, scroll down to shop more pieces from Anthropologie's latest collection.