The One Thing That'll Be In Everyone's Home In 2019
Photographee.eu/Shutterstock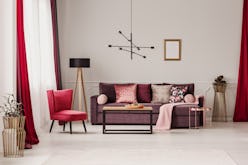 The new year signifies a new start for all aspects of your life: your relationships, your career, your closet, and even your space. And what better way to revitalize your home than by incorporating the biggest interior design trends of 2019? "Just like you refresh your exercise routine and wardrobe at the start of each year, you should also refresh your home," says Heather Kaminetsky, president of RiLEY, a luxury home store.
Your first order of business? "Take a look around and take stock of the pieces you really love, the items that could use a little restoration or mending, [and] the home goods you have that have reached their lifespan and need to be replaced," she suggests. "[Not only can you] easily change the look of your bed or bathroom, you know you are using new and clean products."
But before you go out on a shopping spree, consider getting a jumpstart on the top looks of 2019. Ahead, find insights from the interior design experts at RiLEY, Havenly, and Lemon Grass Design, and start your home makeover before the ball drops. One final tip from Kaminetsky: "Scour the stores and sites for deals this time of year — there are plenty to be had!"
Lush Textures
Gone are the days of the plastic couch covers: Now, the look du jour is chic but inviting. If you're trying to create a modern and comfortable atmosphere, Kaminetsky says that sumptuous fabrics are becoming more popular than ever. "I think 2019 will be the year of texture," she explains. "We always want things to look good of course, but now more than ever, the tactile is important. People want to feel lush fabrics, crisp linens, and soft materials, and what better way to incorporate this into your home decor than through bedding, throws, and other soft home goods?" She adds that this is why it's imperative to invest in high-quality products. After all, the materials you live in should be your little luxury.
An Emphasis On Individuality
Martina Servos, founder of Lemon Grass Design, says that "cookie-cutter" decorating is out and custom interiors is in. "When you are about to renovate or redesign, pay close attention to how you live through your home as well as through your daily life," she suggests. "Your home is your castle and should cater to your needs." For example, when organizing a kitchen, she says to consider things like entertaining, preparing food with a partner, and cooking versus baking. For an easy (and equally personal) change of scenery, try hanging a gallery wall filled with your art or photos, or spruce things up with interesting accents and one-of-a-kind vintage finds.
Vibrant Colors
Neutrals are clean and versatile, but for 2019, Havenly design expert Karen Richani predicts a change in palette. In particular, she says peacock/teal hues paired with mauve ("an upgraded version of millennial pink") will be a popular color combination. And although they had their moment, Servos adds that this year, "grays are on the decline."
Bold & Floral Wallpaper
If you haven't heard, wallpaper is making a comeback, but not in the traditional way. Fresh florals and bold patterns are currently in style, but they're often used as accents (as opposed to covering an entire room). "Bold and floral wallpapers seem to be having their moment, no matter the surface," says Richani, adding that in addition to accent walls, bookcases and ceilings are places to add a fun pop.
Socially Responsible Materials
Thanks to a growing emphasis on the environment and the popularity of rustic and vintage-inspired decor, up-cycled and repurposed home goods are here to stay. "I think that sustainable materials are a trend that is growing stronger and stronger," predicts Richani. She notes that this includes anchor pieces like sofas and tables, as well as "decorative accessories or artwork that use recycled materials or are handcrafted and have a social impact."