Get Your Halloween Thrills With A Visit To This Surprisingly Haunted City
Iryna Liveoak/Shutterstock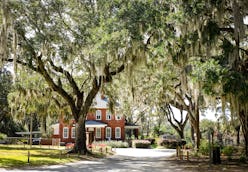 There are a multitude of ways to get your kicks on Halloween, if that happens to be your thing. Of course there are the quintessential haunted mazes and hayrides, costume parties, and even amusement parks if you're the type who'd rather scream your head off on a roller coaster as opposed to when approached by an actor dressed as the undead. But, for real enthusiasts of the impending holiday, there's a next-level way to mark the occasion, and that's with a visit to one of the most haunted cities in America.
If you've been seeking a getaway for the fall and a scenic trip to view the foliage isn't quite your speed, you might want to consider something a little spookier. This year's biggest travel trend is experienced-based vacations, which has resulted in a ton of legitimately weird rentals (including the real Downton Abbey) trending on Airbnb. But whether or not you're brave enough to spend the night in a haunted house, you can at least tour historic sites in a number of notoriously spooky U.S. cities — most of which will probably surprise you.
So if you'd rather ditch the grown-up party or horror flick screening for this year's Halloween plans and pack your bags for a trip that's centered around getting spooked, check out the ahead list of 10 locales that boast reportedly high levels of paranormal activity. Then, book at your own risk.
Savannah, GA
Among Savannah's countless haunted attractions are the Bonaventure Cemetery, Marshall House — a former hospital for patients with yellow fever in the 19th century — and Kehoe House, a modern day B&B that was a funeral home in its former life.
New Orleans
Considering its voodoo past, New Orleans is said to have spirits all over town. Specifically, you can take a trip to The LaLaurie Mansion, where the ghosts of those murdered in the attics now roam the halls. Make sure a walk through St. Louis Cemetery, and — if you want full immersion — book a stay at the Bourbon Orleans Hotel, a former orphanage and convent. You never know who might show up.
Portland, OR
You probably wouldn't expect the Pacific Northwest city to pop up on this list, but with haunted attractions like the Shanghai Tunnels (underground catacombs that were a hotbed of human trafficking in late 19th and early 20th century), Old Town Pizza, and Lone Fir Cemetery, it just might surprise you. And if all else fails, you can always make the trip sweeter with a visit to Voodoo Doughnuts. It's not haunted, just really, really good.
Salem, MA
Thanks to the Salem witch trials, the city has a rich history with the paranormal. Some stops you should make when you visit? The Joshua Ward House, Broad Street Cemetery, Wicked Good Books, Old Burying Point Cemetery, and Gallows Hill, where some of the hangings took place.
Gettysburg, PA
Gettysburg's Civil War battlefields (like Devil's Den), are known to exhibit high levels of paranormal activity. Some visitors have even spotted Robert E. Lee in photos taken there. And while you're in town, don't skip out on a visit to Sachs Bridge, where soldiers were hung. You might just see glowing eyes and misty figures, as others have reported.
Honolulu, HI
Honolulu offers a lot of incentive as your next vacation destination, but the haunted attractions here are some of the most unexpected. Check out Oahu Ghost Tours to paranormal hotbeds like Iolani Palace — home of the last ruling royalty. Visitors have claimed to hear the former queen, who was a prisoner here before being overthrown, roaming the hallways.
San Antonio, TX
Tour the historic Alamo or San Fernando Cathedral, where the spirits of fallen soldiers could be lurking. According to some, buried remains were discovered at the latter back in 1936. Book a stay at notoriously spooky Emily Morgan Hotel or the Menger Hotel — so long as you don't mind a visit from former maid Sally, who just may make her presence known.
Charleston, SC
If you're headed out on a haunted tour of Charleston, make sure to stop by the historic hotel Battery Carriage House, Prohibition-era speakeasy Blind Tiger Pub, the Old Charleston Jail (where the city's first female serial killer was executed), and of course Fort Sumter where Civil War ghosts are said to make occasional appearances.
Chicago, IL
In case you weren't aware of Chicago's reputation as a haunted city, a visit to the former home of serial killer H.H. Holmes (otherwise known as the "murder castle"), the historic Water Tower (where the the body of a worker in the Chicago Fire of 1871 was never found), or the formerly Al Capone-owned Congress Plaza Hotel might convince you otherwise. As for the latter, keep an eye out for Room 441, which is said to be the source of countless phantom calls to the front desk.
San Francisco, CA
Yes, there's Alcatraz, but San Francisco's legendary haunted history also includes the Haskell House at Fort Mason, where U.S. Senator David Broderick was shot and killed, and the Queen Anne Hotel, a Victorian mansion that was once a girl's school — and home of the city's friendly ghost.