The World-Famous Parisian Restaurant You Should Visit In The Next 5 Years
Source: 150 Restaurants You Need To Visit Before You Die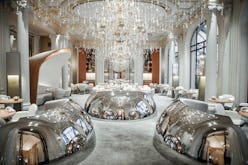 With the boom in foodie culture and emphasis on investing in experience over things, it's no surprise that wanderlusters are setting their sights on bucket list restaurants around the world to find inspiration for their next trip.
While it may seem a bit extreme to cross country borders for a meal, consider this: A truly great dish offers a taste of the local culture, and when prepared with unique ingredients and techniques, it can ignite your senses like never before. That, plus breathtaking atmosphere, can be as memorable as any other activity you may travel for — say, cave diving, glacier hiking, or going on a safari — and further, where there's one great eatery, there's bound to be more.
There are a lot of incredible restaurants across the globe, and luckily, you don't have to round them up all on your own. The forthcoming book from 150 Restaurants You Need To Visit Before You Die by Amélie Vincent (The Foodalist) uncovers the world's best dining establishments, touted for their cuisine, atmosphere, and overall one-of-a-kind experiences.
Ahead, get a sampling of 10 exquisite restaurants that are featured in the book. From a rooftop terrace in Turkey, to a white marble palace in India, to a hanging bamboo pod in Thailand, these awe-inspiring destinations are definitely worth booking a ticket for. Get ready to update your bucket list.
The stunning Hotel Plaza Athénée has made appearances in Sex and the City and The Devil Wears Prada, but the in-house restaurant is also renown for its healthy, environmentally friendly cuisine and breathtaking decor. Unlike many French dishes, butter, cream, and sugar are used "sparingly" in each course, yet diners are treated to "extraordinary new tastes," according to 150 Restaurants. But for those who dream about dessert, the head pastry chef also gets accolades for her balanced fruit creations.
#2 - Tasting Counter || Boston, Massachusetts, USA
The diner experience at this trendy eatery is unique from the get-go. Meals are pre-paid with the purchase of a ticket, and instead of ordering from a menu, guests create online profiles so the chef can cater to their tastes. Up to 20 foodies are treated to culinary theater and a meal that's made just for them. The restaurant also operates on a "0 carbon, 50 local, 100 natural" model; zero carbon footprint, 50 percent locally sourced ingredients, and 100 percent natural.
#3 - Azurmendi || Larrabetzu, Spain
Eating at the Michelin-starred Azurmendi is like a progressive dining experience on the restaurant's scenic hillside property. With sustainability and ingredients from local growers at the forefront of each dish, guests savor a sampling of bites in the interior garden, then the kitchen, then proceed to the greenhouse to round out their meal.
#4 - Mikla || Istanbul, Turkey
Located in the Marmara Pera hotel, Mikla sits atop an 18-floor terrance where the view of Istanbul is as delicious as the dishes. Here, the Scandinavia-born, USA-trained chef "draws upon his wide range of influences to cook his creations," 150 Restaurants explains. With a menu featuring preparations based on ancient traditions, the simple, yet elegant dishes — plus the restaurant's non-intrusive decor — make this place a minimalist's dream.
Those who treasure atmosphere and ambiance must make Bhairo, located in the Taj Lake Palace, a bucket list priority. From the boat ride arrival to views of the moonlit lake waters, guests are in for an enchanted evening. This 18th-century palace is lined with white marble and is surrounded by courtyards, pavilions and gardens, giving diners an experience that's truly fit for royalty.
#6 - The Jane || Antwerp, Belgium
Featuring stained glass windows and high arched ceilings, this cathedral-turned-restaurant is known for its edgy vibe and fine (yet accessible) cuisine. Upon closer look, the window art features tattoo-inspired designs, and the kitchen — preparing dishes that are nothing short of divine — is located where the altar once stood. Visitors of The Jane will experience a unique combination of "loud music, exciting cocktails and the smell of incense," says 150 Restaurants.
#7 - RAW || Taipai, Taiwan
With its architectural interior design, laid-back atmosphere, and French bistronomy-inspired plates, the stellar reputation of RAW is known throughout Taiwan (and by the tourists who visit). In addition to artfully arranged dishes that excite the senses, oenophiles and coffee connoisseurs are in for a double treat; the eatery also specializes in biodynamic French wine and hand-brewed coffee made with local beans.
#8 - Lido 84 || Gardone Riviera, Italy
For a restaurant to have a reputation as one of the best in Italy, it has to be good. And there's proof: Lido 84, owned by brothers, received a Michelin star just six months after opening. The chefs focus on highlighting natural flavors and local produce, and 150 Restaurants points out that the cacio e pepe — pasta boiled inside a pig's bladder — is a must-try dish. In addition to stellar cuisine, this shoreside restaurant offers water, mountain, and castle views.
#9 - Bennelong || Sydney, Australia
Within the famous Sydney Opera House is Bennelong, a fine dining establishment that's become a landmark all its own. The multi-floor restaurant allows visitors to tempt their palettes wherever they please: cocktails at the upper bar, fine dining dishes downstairs, and oysters and champagne at the Cured and Cultured bar counter. According to 150 Restaurants, nobody should leave without ordering the signature treat, a "meringue-based dessert, tribute to Bennelong's incredible architecture."
#10 - Soneva Kiri || Koh Kood, Thailand
Soneva Kiri is a luxury resort on the island of Koh Kood and offers a dining experience like no other. Tourists have the opportunity to enjoy dinner in a private bamboo pod, hanging 16 feet about the ground in a eucalyptus tree. While tasting Thai dishes featuring fresh seafood and garden-grown produce, guests can gaze at the Gulf of Thailand. But perhaps the most impressive feat is how they're served; by "flying waiters" attached to zip wires.